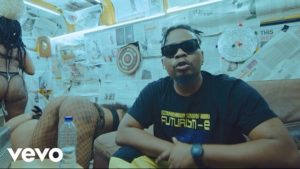 Enough of the booty calls on Instagram as Olamide finally serves a well dished video for his trending single "Pawon".
Olamide has been teasing fans with what to post while posting several videos of girls twerking on his social media page.
What a way to announce the video, the challenge was maasive on his page with everyone showcasing their talent.
And now what do you expect? A well complimented visuals to the Cracker Mallo produced single or an entertaining video with an electrifying performance from the beginning to the end.
While still enjoying success from his hit singles "Woske" and "Oil and Gas", here is Pawon to the lovers of street vibes.
A whole package in one, the video is certainly worth every hype as shot by the talented filmmaker, TG Omori.
RELATED: DOWNLOAD VIDEO: Olamide – Oil & Gas
Watch and enjoy below: