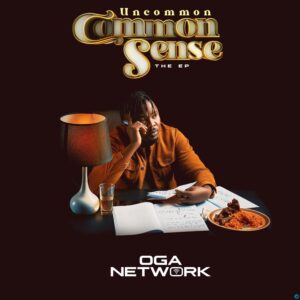 Ifeanyibema Evans is known for his stage name Oga Network. He is a popular Nigerian artist originated from Delta state, but currently resides in Edo State. Over the years, he has been making back to back hits, including the station anthem for one of the popular radio stations in Edo State (Speed Fm).
In 2016, Oga Network Won the Best Highlife song at the South South Music Awards with his smash hit single titled AKARA. In 2018, Oga Network dropped one hit single titled "Anointing" under Alleluya Boyz Entertainment, which was produced by Young John and the video directed by Director Q
Quick Facts About Oga Network Latest Album Titled Uncommon Common Sense
● Artist: Oga Network
● Runtime: 15 minutes, 6 Songs
● Genre: Afrobeat
Oga Network is one of the popular Nigerian music artists, songwriter, and stage performers. He recently dropped an album titled "Uncommon Common Sense". This incredible album is the demonstration of Oga Network's exceptional skill, talent and dedication of creating good music that touches the heart and soul.
Uncommon Common Sense is the combination of songs that are a fusion of different genres of music, such as afrobeat, highlife, and reggae. All tracks come with a unique sound that showcases Oga Network's versatility as an artist.
Oga Network makes sure that his latest album Uncommon Common sense shows his creativity and ability to draw the attention of everyone to his world through his music. Oga Network is known for his incredible and meaningful lyrics, infectious beats, and amazing collaborations, "Uncommon Common Sense" is one of his best music body of works, which is corrected to leave a long lasting impression on all listeners.
For everyone, especially Oga Network fans, it is the right time to update your playlist with the
latest music from Oga Network's album Uncommon Common Sense.
You can get to download Oga Network lastest album Uncommon Common Sense here.
Make sure you share with your friends and family, and let them experience the genius of one of
Nigeria's finest music stars. Don't miss out on the opportunity to immerse yourself in the
amazing world of Oga Network's music.
Oga Network Uncommon Common Sense Album Tracklist
1. Jeje
2. Who I Be (feat. Vector)
3. Them Say
4. Obagoal (feat. Zlatan)
5. Care Less (feat. Erigga)
6. Life