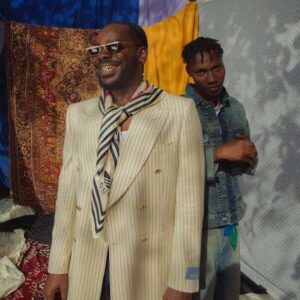 The talented singer has blended Afropop and lyrics to create an electrifying party anthem that will get the party started and keep it going all night long.
Nigerian music sensation, Adekunle Gold, is proving once again that he is a force to be reckoned with in the Nigerian music scene with his latest release, "Party No Dey Stop".
Adekunle Gold, popularly known as AG Baby rose to fame with his single "Sade" in 2015 and has since then been releasing chart-topping hits that have earned him a huge fanbase. Following his rise to fame Adekunle Gold has continued to push boundaries with his unique blend of Afropop and highlife music, carving a niche for himself in the Nigerian music industry, his captivating lyrics, soulful voice, and eclectic style have earned him numerous accolades and collaborations with notable artists both in Nigeria and internationally.
AG Baby has released 4 albums: Gold (which debuted at #7 on the Billboard World Albums Chart), About 30 (which was shortlisted for the GRAMMY® Best World Album), Afropop Vol. 1 and Catch Me If You Can which was released in 2022.
His album "Catch Me If You Can" featured popular stars like Davido, Stefflon Don, Ty Dolla $ign and more. The 2022 album offers unique insights into his inner workings as a music star and shows his adopted persona "Bad Boy Deks" as the confident, cocky, and eloquent pop star. This persona is a departure from his earlier stage name, AG Baby, which he adopted after switching from his initial Folk/Traditional Pop style to a more Afro-infused electronic pop sound.
Following his successful album, "Adekunle Almoruf Kosoko" also known as AG Baby, Bad Boy Deks, or simply Adekunle Gold, dropped a single titled "5 Star". In this track, he shares his personal experiences of living with sickle cell disease and he also expresses his gratitude to God for his journey so far. The inclusion of Rick Ross in the song not only adds an international flair but also demonstrates Adekunle Gold's expanding reach in the music industry beyond his home country of Nigeria.
Releasing his newest party anthem titled "Party No Dey Stop" He features Zinoleesky a multi-talented Nigerian music sensation and song composer who is currently part of the Marlian Music.
Lyrics
I'm not moved by what I see
I know who I be, I just want my peace
Make money eh
I go get everything I need
In my own timing
Ko ni koja mi
Ko ni delay
So many people deny
Oluwa don co-sign
Can't believe this is my life
Everything come align
They looking me so surprised
Sho'mode lo dun bayi
I know it's hurting your pride
Believe me I don't mind
Party no dey stop, when we pop
Yeah we up
Plenty spending like it's nothing
Party no dey stop, when we pop
Yeah we up
Plenty spending, like it's nothing
See me I no dey worry 'cause Oluwa don co-sign me
I no dey put mind for wetin no concern me
Kind of slow but I'm always on timing, ahn
See my eyes don see many thing ti mi o gbadura f'ota mi
If you still dey hate, you need therapy
Good vibes, no bad energy, oh, ahn, yeah
Aje, ti n ba jade tan
Aya won a ja
Ti n ba ti fe mule na banger
Me wey I don high on paraga
How I go get time for wahala?
Find one girl wey fine like Rihanna
Spending like Obi Cubana
Leave acting for Tony Montana
Original not made in China
Party no dey stop, when we pop
Yeah we up
Plenty spending (Plenty Spending)
Like it's nothing (Like it's nothing)
Party no dey stop, when we pop
Yeah we up
Plenty spending (Plenty Spending)
Like it's nothing (Like it's nothing)
Inaudible melodies
Adekunle Gold
Oro aye mi ko ma le
Ma lo Cali or Paris
Go again another day
Zinoleesky
Kilo fe, Richard Millie or Patek?
Wo currency lowo mi
The real shit no fugazzi, no fugazzi
In da club, turn it up (Turn it up)
Oluwe mawe, oluwe mawe oh
Oluwe mawe
Party no dey stop, when we pop
Yeah we up
Plenty spending (Plenty spending)
Like it's nothing (Like it's nothing)
Party no dey stop, when we pop
Yeah we up
Plenty spending (Plenty spending)
Like it's nothing (Like it's nothing)
The 2 minutes track by the Award-winning Nigerian singer was produced by Pheelz. The song opens with an engaging intro and features a captivating beat that seamlessly blends with the vocals of Adekunle Gold and is accompanied by a verse and vocals from Zinoleesky.
"Party no dey stop" is a heartfelt expression of how far God has brought Adekunle Gold and how he is thankful for every success he has achieved. The music star talks about making money and getting everything he needs in his timing, without delay. 'Make money eh, I go get everything I need, in my own timing. Ko ni koja mi, Ko ni delay…"
In "Party no dey stop", Adekunle Gold is also thankful for the many prospects he has been blessed with and he expresses how he has gone through many difficult times in his life both public and private. However, despite the hardships, God has consistently stayed by his side and supported him in every way possible.
"Party no dey stop" by Adekunle Gold ft Zinoleesky is a song that will undoubtedly leave an indelible mark on the music scene. With its infectious vibes and powerful delivery, it's no wonder that this track will soon become an anthem among music lovers.
One of the key strengths of this track lies in its global appeal. The production on the track seamlessly blends Afrobeats, Hip-Hop and Pop, making it accessible to a wide range of listeners. The relatable lyrics and infectious beat make "Party no dey Stop" a must-have on any party playlist.
Without a doubt, "Party no dey stop" by Adekunle Gold ft Zinoleesky has a perfect blend of heartfelt lyrics that would remind us of our own experiences and the times when we wouldn't have made it without the help of God and a perfect blend of great beats and amazing vocals that would get the party started and keep everyone on the dance floor all night long.
Download Adekunle Gold Party No Dey Stop ft Zinoleesky