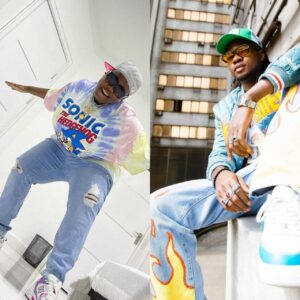 One single and six months after, Mulla Rae is still standing in the industry, proving wrong his critics who predicted that he would fade away with time. The Jos born and Kogi native artist is coming back stronger with a new single titled Your Matter.
This time around he teamed up with Teni Entertainer, one of the industry's finest female artistes, to create a masterpiece, a song which he says is "Energetic, Poetic and Groovy in nature."
Mulla's antecedent show that he is not one to make empty boasts, that if he says he has something great in store for his fans then he means it. His work with Wanted is proof that he is a talented brain when it comes to making good music.
Wanted which was released in March 2021 is the singer's official debut single. The song which can be described as a mix of Afro-pop & Afro-fusion sounds, won the hearts of many Nigerians to Mulla's music.
With Wanted, Mulla proved that he was good at creating relatable music, a song that mirrors the lifestyle of Nigerians. A song that brings smile to people's faces as they vibe to it. On Wanted, the singer speaks about a certain love interest and the things he is ready to do to win her love. Wanted showed us the lover boy in Mulla and it seems like Your Matter won't be different.
Your Matter is set to hit the music waves on the 29th Of October 2021, giving people a new jam to vibe to as they enter into the new month. In retrospect, the timing for the release of the song can be described as perfect. The song is arriving just before the December holidays, giving it enough time to find its way to the clubs and mouths of music loving Nigerians, just before the shows associated with the end of the year start holding.
If things go according to plan, Your Matter, would help solidify Mulla's place as one of the fast rising artistes in the industry. And also keep him busy all December, as he would be booked down for shows and concerts in the country.
Read More about Mulla Rae Biography here.