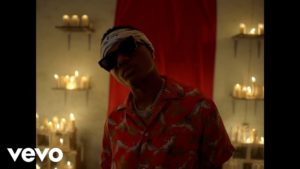 Just when you thought you've heard enough from the Afrobeat legend, Wizkid who claims he won't be releasing more songs, he finally bless his fans with another pure magic on the song titled "Joro".
Its certainly the 'Pepper dem' season as Wizkid comes with his own Peppery lyrics on the NorthBoi produced master piece.
You just have to love African music, most especially the simplicity of Wizkid's songs.
The rhythm of the song "Joro" will make you want to learn how to dance to Afro beats.
Just few moments of its release, its been getting positive reviews from music enthusiasts and pundits alike.
Wizkid actually makes singing easy. He is simply a musical genius and the best at what he does.
Wizkid has been teasing fans for his upcoming project "Made In Lagos" which is expected to be released sometime in October this year and by that he had dropped "Ghetto Love" with the video gathering over 2 million views on YouTube.
However, we might have to wait for the album like its some sort of judgement day *winks*.
Nevertheless, the song is accompanied with a crispy visuals with some attractive lit moves from the video vixen. The waist movement with the beat is simply top notch.
RELATED: DOWNLOAD VIDEO: ID Cabasa – Totori Ft. Wizkid , Olamide
Can we say Wizkid is a potential Grammy award winner? well, first sit back, relax and enjoy amazing sound from the Star Boy!
Listen and enjoy below:
Wizkid Joro Mp3 (Digital Stores)