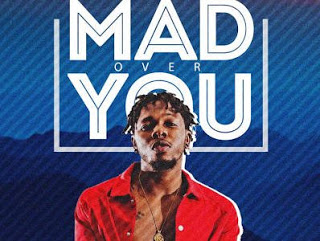 Born Douglas Jack Agu, who is popularly known as Runtown is a Nigerian singer, songwriter and producer who presently have one of the bigget songs in Nigeria right now.

Runtown is a singer with diverse musical style mix of RnB, hip-hop and raggae. He has released a lot of hit songs wchich include baby answer, Walahi, and Gallardo which he featured Davido. The singer came into limelight when there was rumour about writing Davido's hit song "Aye".
Runtown now has another hot tune titled "Mad over you" which was produced by Del'B, officially released on the 4th of November 2016, and since then has been the people's choice and talk of the town.
Due to the wide acceptance and popularity of this lovely song, we decided to share with you the lyrics.
Download Runtown – "Mad Over You"
Runtown – "Mad Over You" Lyrics
Ghana girl say she wan marry me o
I hope say she sabi cook wache
Hope your love dey sweet pass sheto
Baby girl i say
I say your body na killer oh
I fit to die on your body, only on your body
That girl for the corner
Tell somebody make them call am o
Way she dey whine am i see fire for her body o
And if she follow me go na enjoyment go kill am o
Baby girl you bad oh
Girl the way you whine oh
I dey mad over you girl (x2)
Say you are my woman eh eh
My super wman
I dey mad for you girl (x2)
If i sing for you, you go love me oh
Baby love me non stop, i'll love you nonstop
Always kiss you ontop, Baby o
All over the world wan wa mi
Play the music nonstop
Tell them dance to my song
Tell them shake bum bum
ohweh
That girl for the corner
Tell somebody make them call am o
Way she dey whine am i see fire for her body o
And if she follow me go na enjoyment go kill am o
Baby girl you bad oh
Girl the way you whine oh
I dey mad over you girl (x2)
Say you are my woman eh eh
My super wman
I dey mad for you girl (x2)
Ghana girl say she wan marry me o
I hope say she sabi cook wache
Hope your love dey sweet pass sheto
Baby girl i say
I say your body na killer oh
I fit to die on your body, only on your body
Watch video below: