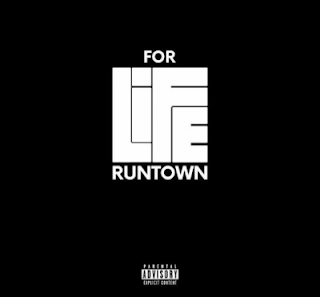 "For Life" by Runtown is the song which has really been the talk of the town with massive airplays from Dj's to dance floors in clubs and parties.

The cool song was produced by Krizbeatz and we can't just get enough of his lovely beat that really goes along with the lyrics of the song itself.
This song actually serves as follow up to his hit single "Mad Over You" and we can't help but feel another vibes from Runtown who is unarguably one of the hottest Nigerian artiste right now,
To me i can't even say the better of the two between "For Life" and "Mad over you" but let me leave you to decide for yourself.
Check out the song below and you won't ever regret downloading it.
See "For Life" Lyrics below:
[Intro:]
Oooh yeah yeah
Yeah yeah
[Pre-Chorus:]
My doctor say my cure dey on top your body oh
All the times wey I do you bad, I'm sorry oh
Give me love wey better pass money oh
Wey sweet pass honey oh
If na fight make I fight for the love
If na craze make I craze for the love
Don't want no complication
This is a situation
If na craze make I craze for the love
If na fight I go fight for the love
Don't want no complication
This is a situation
[Chorus:]
Baby oh
Baby oh
I want to love you for life
Baby oh
Baby oh
Come make I love you for life
[Bridge:]
Odoyewu my personal
Baby girl you are the one
Love wey I love you now
This kind of love wey I love you now
Girl I wanna be your customer
For your love I'll be a hustler
Love wey I love you now
[Verse:]
Every Superwoman needs a Superman
Your love give me joy wey I no fit understand
Fine girl you no need no other man (no other man)
Your love give me joy wey I no fit explain
Girl I wanna, girl I wanna
Give you good love and love no other
You wey dey burst up my medulla
You wey dey rise up my temperature
Girl I wanna, say I wanna
Give you sweet love and love no other
You wey dey burst up my medulla
Say na you wey dey rise up my temperature
[Pre-Chorus:]
My doctor say my cure dey on top your body oh
All the times wey I do you bad, I'm sorry oh
Give me love wey better pass money oh
Wey sweet pass honey oh
If na fight make I fight for the love
If na craze make I craze for the love
Don't want no complication
This is a situation
If na craze make I craze for the love
If na fight I go fight for the love
Don't want no complication
This is a situation
[Chorus:]
Baby oh
Baby oh
I want to love you for life
Baby oh
Baby oh
Come make I love you for life
[Bridge:]
Odoyewu my personal
Baby girl you are the one
Love wey I love you now
This kind of love wey I love you now
Girl I wanna be your customer
For your love I'll be a hustler
Love wey I love you now
[Outro:]
If you take her to the room she go know
She go know e no be joke
If you take her to the room she go know
She go know e no be joke
Extraordinaire
Runtown oh