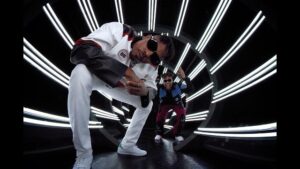 Here is Ladipoe and Buju with the official video to their top charting song "Feeling".
The hit song "Feeling" already boast of massive airplay both within and outside the country. It has been tredning on the video sharing platform Tik Tok ever since it was released.
As produced by Andre Vibez, it comes through after an amazing freestyle from Ladipoe which he called "Rap Messiah".
The video is quite a befitting and amazing one as shot on a location in Lagos and directed by Kwena Oni and Sean Opabisi for Loup Graou Films.
Quotable Lyrics:
I like the way I'm feeling now
No come use your reggae spoil my blues and
rhythm now
Oh Oh Oh Oh
I like the way I'm feeling now
Omo e get small thing wey dey stress me but right
now I'm chilling now
Oh Oh Oh Oh
Way out my feelings and nothing can stress me
The way I run the game I'm feeling like referee
No, like Moses parting the Red Sea
Like a chauffeur, me in the back of the Bentley
Watch and enjoy Ladipoe – Feeling video below: