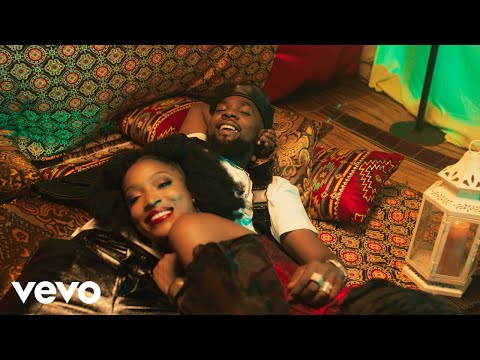 Beatiful models in a colorful atmosphere as Patoranking unveils the offical video to his single "Yo Body".
"Yo Body" which is one of the song off his "Three" album gets a crispy visual with cameo appearance from the likes of Davido and Peruzzi.
The video was shot and directed by Dammy Twitch.
Watch, download and share below:
Quotable Lyrics:
It's CT on the beat
Excuse me sexy mama
Me feeling no normal
I just wanna be the reason
Why they call you mama
Gyal no drama
Why you make me stammer
Short conversation
No long drama
Excuse me sexy mama
What's the plan fi the summer
Lagos, Kampala, Ghana, Panama
When it seems so hard
Imma make in scammer
Me keep it bad like Tony Montana
Me I loose up my mind
When you grind slowly
Mind muh a mad
–When you whine fi me
Eh baby
What you looking for
Girl I got it right yeah
What you searching for
I just wait a way for you to
Bring yo body e ai
Bring yo body e ai
Girl just bring yo body e ai
Me wanna rock your body e ai
Bring yo body e ai
Bring yo body e ai
Girl just bring yo body e ai
Me wanna rock your body e ai
Oooh oooh ooooooooh oooh e ai yeah
Oooh oooh ooooooooh oooh e ai yeah
Bring yo body e ai
Bring yo body e ai
Girl just bring yo body e ai
Me wanna rock yo body body e ai
And she love the way me grind pon her
When me come inna the dance mi wan jump on her
She know sayy man ah born stunna'
Life style clean so no man can run her
Hey Girl what you wanna do
Can I be your lover can I be your boo
Anything you want girl mi gwan do
And your friends them be friends with my crew
Co co come ride mi thing girl and do your thing
Never seen ah body that can clip ah man wings
The way you whine girl you make me sing
Hatahataadabadidin ooouuuu
Where you from baby
I wanna know who you call baby
Rastah-man give you all daily
Are you down baby
Hey baby
What you looking for
Girl I got it right here
What you searching for
I just can't wait for you to