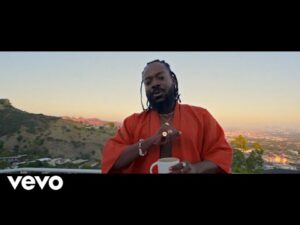 Nigerian afrobeat sensation, Adekunle Gold set the pace for the dance floor with a befitting video for his hit single titled "Okay".
The song "Okay" is said to be one of the fans favorite in his recently released album "Afropop Vol 1" which boast of fetaures from the likes of Tekno, Olayinka Ehi and Nailah Blackman.
AG Baby is definitely your daddy with this amazing piece which comprises of different vibes and mixed feelings as the video has been approved to upset all his haters.
It is a lovely video and concept directed by 1OFMYGUYS.
Watch, download and share below:
DOWNLOAD VIDEO: Adekunle Gold – Okay
Adekunle Gold – Okay Lyrics:
(Verse 1)
Stacking up my money no time for your shit monikulopo I don't care for your hate me no fighting (me no fighting) throwing tantrums from bungalow boda ode I dey my penthouse you can't even reach me me nor frightened it is not your fight stand down I'm not the one calm down you know i'm not your problem you can't be me why bother Don't have your time now now oole mumi bow down toba n binu farabale or boya ko lari mo le
(Chorus)
Okay Okay issokay let them say Trouble no dey pay me kin jaiye on a daily Okay Okay we go dey okay I just wan jaiye mi loke loke
(Verse 2)
na craze you dey find I get times 2 you dey eye me Let me remind you no dey try me (bruh) To ba rimi Ko ma beri you got my attention now what you gon' do you dey tension but sho'le ja kungfu Oga cool it down down cos me no fighting it's not your fight stand down I'm not the one calm down you know i'm not your problem you can't be me why bother Don't have your time now now oole mumi bow down toba n binu farabale or boya ko lari mo le
(Chorus)
Okay Okay issokay let them say Trouble no dey pay me kin jaiye on a daily Okay Okay we go dey okay I just wan jaiye mi loke loke