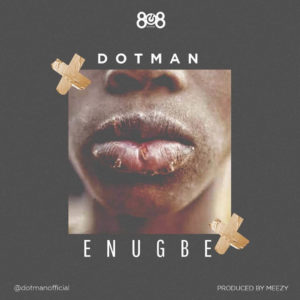 Inspiration from every angle, comes the Nigerian rave of the moment, Dotman with another sensational single titled "Enugbe".
Song Info
Artist: Dotman
Song Title: Enugbe
Genre: Pop
Producer: Meezy
Year Released: 2020
Record Label: 808 records
"Enugbe" serves as a follow up to his viral single "Awe" which is still enjoying massive airplay across the streets.
Its a mid tempo tune loaded with lots of message to pass across from his trying times to his way to the top.
Dotman talent speaks for itself and no doubt it's another track to make wave in coming weeks with production assistance from Meezy.
It shows he isn't just your everyday artist, he is here to stay with many hit songs to his record.
RELATED: Download Mp3 – Dotman – Okay
Listen and share your opinion below:
Check out "Enugbe" Lyrics below:
Igba tenu gbe Igba ta o ri n kan je
Igba tenu gbe Igba ta o ri nkan je
Won yera funwa o won japa
Won yera funwa won salo
Won fere ge o won gbera
Won yera funwa won japa
Owo epo ati mowon o Owo epo
Awon alabosi owo epo
Awon atenu yii owo epo
Ye
Owo epo ati mowon o Owo epo
Awon alaropin Owo epo
Awon atenu yii Owo epo
Won fi scope won fi shenk wa
Lori Whatsapp won tun block wa
A kiwon kiwon won o respond wa
Won o fe kowole won o fe sponz wa
Tori nigba kan mi o ni package
Ko si manager but mo manage
Won ti gbagbe pe story ma change
Won tun so wipe mele ra range
A ra range a tun ra G Wagon
Ema sanwo nsin teba ma riwa joor
E ro pe a mon yin a o moyin
Teba gbemu bouncer won ma na yin
Shebi upcoming lo ma n di star
Kilowade tema n bumi nigbayen tiba n freestyle
Shebi a kede tiwa blow nsin a ti gbe first e de kede tiwa to nsin
Owo epo ati moyin o Owo epo
Eyin alabosi owo epo
Eyin atenu yii owo epo
Oh ye ye ye
Owo epo ati moyin o Owo epo
Eyin alaropin Owo epo
Eyin atenu yii Owo epo
Shebi eni Kin send account number
Mo send e times without number
A o ri alert debi tama rowo
Kiwa le wulo fun kini koko
Olowo tio saanu omo is a talika
Toba help eyan iyen ni Alubarika
Atori laye horizontal and vertical
Awon to allow loma ri e bii malaka
A ra range a tun ra G Wagon
Igba teriwa e fo e fe magbon
E ro pe a mon yin a o moyin
E ma kowo fun babalawo kan ma tan yii
Shebi upcoming lo ma n di star
Bope boya eni to n fese rin o ma lo car
Shebi a kede tiwa blow nsin a se concert e kede sanwo wa show nsin
Igba tenu gbe Igba ta o ri n kan je
Igba tenu gbe Igba ta o ri nkan je
Won yera funwa o won japa
Won yera funwa won salo
Won fere ge o won gbera
Won yera funwa won japa
Owo epo ati mowon o Owo epo
Awon alabosi owo epo
Awon atenu yii owo epo
Ye
Owo epo ati mowon o Owo epo
Awon alaropin Owo epo
Awon atenu yii Owo epo