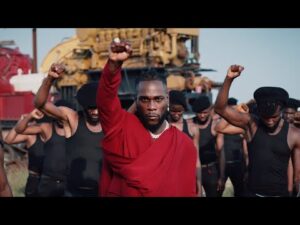 Nigerian heavy weight, Burna Boy drops a cinematic, artistic and African story telling music video to his single "Monsters You Made".
Burna Boy has proved to be on the international platform with features from the English singer, Chris Martin.
An amazing verse from Burna Boy and a catchy hook from Chris Martin is enough to keep you glued to your screen as shot and directed by award winning cinematographer, Meji Alabi.
Director: Meji Alabi
Production Company: JM Films⁣
Producer: Jimi Adesanya⁣
Album Creative Directors: Meji Alabi & Clarence Peters Line Producer: Leke Alabi-Isama
Cinematographer: KC Obiajulu
Editor: Mah Ferraz
Artist Styling: Ronami Ogulu
Cast Styling: Daniel Obasi
Colourist: Jonny Tully
Art Direction: Anti Design
Set Build: Kevin Creations
Quotable Lyrics
Calling me a monster, calling us fake
You make the minotaur the dinosaur wake
Calling me a monster, just 'cause we say
No way, no way, no way
Calling me a monster, make no mistake
That there's only so much that you can take
La di da do di da do day
We are the monsters you made
Watch and enjoy video below: