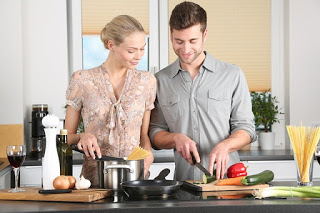 The spark in a marriage is not always constant or the same as when both partners meet each other for the very first time.

At first both partners will seem like the sky is just the beginning of their love, but as time goes on, the kisses, hugs and love begins to diminish and eventually fade away.
For marriages to work out, It requires adequate effort and attention by both partners.
However, it is definitely the activities during the marriage that will determine how long the marrigae will last.
So, when the spark begins to go down in your marriage, below are the possible ways you can rekindle the flame and keep it burning up.
1. Increase the level of communication
Communication is very important in marriage. Even if you are always busy at work or your work schedule does not permit you to stay for a very long time with your partner, you can still find time to call during break hours at work or even text your partner a message to show that you still care about her.
READ ALSO: 5 Pillars Of A Balanced Marriage
2. Stay as attractive as possible
Before you got married, you are always staying classy and neat for people who will probably have interest in you.
Now that you are married, you quickly forget all those routines as you don't see it neccessary any longer. You even you are already married so you don't need to wear that gorgeous look anymore.
I can tell that you are making a very big mistake as your physical appearance still affects your marriage in one way or another.
You need to still stay as attractive as possible for your partner to still have that same interest in you like he did before he got married to you.
You need to let your partner know that there is still much to be discovered about you.
Staying attractive will ensure the spark in your marriage continues to exist as your partner will always see you as a new person each and every day and in turn love you more and more as days passed by.
3. Learn to show gratitude
Sometimes a simple thank you can go a long way to strenghten your marriage. When you appreciates the efforts of your partner, it makes them want to do more and even be a better person for you. You need to show appreciation in every area of your marriage.
When you appreciate your partner, it silence the room for third party interference when odd situations occurs and in turn make your marriage last longer.
READ ALSO: Flirting – 9 Words You Can Use To Make A Woman Feel Sexy
So as from today, make it a point of duty to always show appreciation for everything your partner do for you.
4. Never take your partner for granted
Marriage is like a long term contract, if you ever want to be in it for a long time, you need to pay every bit of your attention in it. Never try to ignore your partner's decisions and opinions, and learn to love and cherish your partner.
5. Spend more time together
Spending more time with your partner will go a long way to rekindle the flame in your marriage.
Why not find time to have fun with your partner, may be go together with your partner to favourite places, explore the world together and even learn new things together.
6. Know your partners needs and connect together emotionally
To rekindle the flame in your marriage, try as much as possible to fill in the emotional gap between you and your partner. Make sure to find out what your partner needs and try to satisfy her to the fullest.