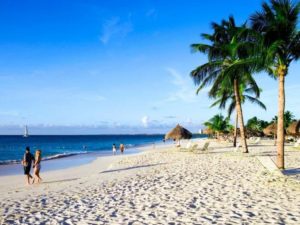 Lagos is truly a center of excellence with its rich features most especially the eye catchy Beach around its vicinity.
No doubt, the Beach has been considered as one of the tourist attractions Lagos can actually boast of and it's fast becoming one of the go-to recreational center for fun lovers.
The Beach is actually known for its cool atmosphere and attention grabbing views which has become one of the top tourist spot for travelers.
There are certainly a lot to enjoy at the Beach, from engaging in different recreational activities such as Swimming, horse riding and ball playing to having an amazing experience with the different foods and drinks such as small chops, Zobo, Chapman and so on.
Although we have Private and Public beaches in Lagos which main difference is just the features and services both offers but one thing guaranteed is unlimited fun with both types of Beaches.
READ ALSO: Check Out The Common Nigerian Trees, Their Botanical Name & Uses
So, are you looking to take a break from the hustle of Lagos or are you searching for a perfect place to have fun, the Beach is definitely the right spot for you. Why don't you sit back and check out the list of popular beaches you can probably visit in Lagos.
1. Atican Beach Resort
The Atican Beach resort is a private beach which offers everything you need to do in a beach. Its services are top class from providing good restaurants to pubs and lodges.
You can visit Atican Beach at Abraham Adesanya estate road, Eti-Osa, Lekki, Lagos.
2. La Campagne Tropicana
This beach has got a lot to offer from its hospitable accommodations to its luxurious facilities.
You can visit La Campagne Tropica at Ikegun, Ibeju-Lekki local govt. Area off Lekki/Epe Expressway, Lagos, Nigeria.
3. Whispering Palms Resort
This is also a private beach which is fast becoming one of the most sought for fun lovers in the country.
You can visit Whispering Palms Resort at Ajido town, Badagry, Lagos.
4. Elegushi Private Beach
The Elegushi private beach is one of the most popular among youths. It is known for mits sandy atmosphere and lovely relaxation.
You can vist Elegushi private beach at Ikate Elegushi, Lekki, Lagos.
5. Oniru Private Beach
The Oniru beach is one of the most beautiful beaches in Lagos known for its lovely atmosphere and secured waterfront.
It is owned by the Oniru royal family.
You can visit the Oniru private beach at 1 Ligali, Ayorinde street, Ozumba Mbadiwe Avenue, Eti-Osa, Lagos, Nigeria.
READ ALSO: Top Five Most Expensive Cities In Nigeria
6. Kuramo Beach
This beach is definitely a must to visit if you want to have a fun-filled moment.
There is actually a lot to see at the beach from the rowdy environment to its exciting features.
You can visit Kuramo beach at Adetokunbo Ademola stree, Eti-Osa, Lagos.
7. Eleko Beach
The Eleko Beach is one of the most popular beach you can find in Lagos.
It is a public beach taht offers private beach features. It has clean environment and less rowdy than other public beaches.
Eleko Beach is located close to La Campagne Tropicana in Lekki.
8. Coconut Beach
Coconut beach is a public beach known for being surrounded by Coconut trees.
It is perfect place for relaxatiuon by couple for their vacation.
Coconut beach is located along Lagos-Badagry Expressway.
9. Halemson Beach
Talk of natural endowments, Halemson beach has got a beautiful beach island and top notch relaxation facilities.
You can visit Halemson beach at Ikare island Satelite town, Lagos.
10. Eko Tourist Beach Resort
From its name, this beach is a nice tourist center for travelers and has got a lot of recreational facilities for your fullest fun.
You can visit the private resort at Lekki-Epe Expressway, Ibeju, Lekki, Akodod, Lagos.