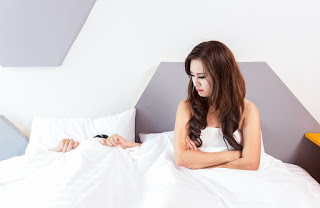 Every marriage has it's own faults but the ability of the couples to be able to tackle the downside is what the makes the marriage last longer.

Issues in the bedroom is not something that is strange, it is surely bound to happen between couples in a marriage.
These issues are supposed to be handled with care and caution so that there can be outright agreement between both partners.
Both partners should focus more on how to solve the issues and make it an opportunity for them to improve in every area each of them is found wanting.
However, partners should learn to appreciate more than they complain while they remain calm in sorting out situations.
READ ALSO: These Two Words Have The Power To Transform Your Marriage
Below are the common bedroom issues couples often face in a marriage:
1. Lack of communication in bed
Most couples find it difficult to connect emotionally on bed. They are unable tell each other their needs and don't on bed.
This is usually a common problem faced by couples in a marriage as Partners really need to communicate their needs to each other in order to satisfy themselves on bed.
2. Lack of communication outside the bedroom
Another major problem with couples is that they lack the ability to communicate well with each other outside the bedroom.
There is absolutely no magic that couples will be able to relate well in the bedroom when they can't communicate well with each other outside the bedroom.
Communication serve as the only means partners can be able to reach out to each other and once this is absent, Couples will definitely be faced with issues in their marriage.
3. Physical problems
You might be wondering what we meant by physical problems issue in a marriage. Well the physical problems can come in different forms like for example it can be:
– Erectyle disfuction: This is a situation whereby the male partner organ does not fuction well.
– Size of the male organ: This is a situation where by the male organ is too small in size and not able to satisfy the partner well in bed.
– Women feeling pains during intimacy: Some women do feel pain during play time may be as a result of their part being too small or because the size of thee male partner is too big for them.,
READ ALSO: How Your Relationship Is Positively Affected By Longer Foreplay
However, when this occurs, both partners can try out some bedroom positions whereby she will feel less pains.
4. Making comparisons of different kinds
This is a situation whereby partners begin to comapre their marriage with that of when they were with their ex.
The woman especially, begins to see the difference between her partner and her ex while trying to change her partner at the same time.
When comparisons start to set in, it usually pose problem in a marriage.
5. Fatigue
Usually some couples are being faced with tiredness as a result of long hours or stress at their work place which in turn affect their intimacy in the bedroom.
Women do get tired before bed activities due to domestic activities in the home.
With all the cooking, washing and taking care of the children, fatigue is just inevitable.
6. Inability to get to the finish line during play time
While men do get to the finish line quickly, women often finds it difficult to reach the finish line.
In fact stydy shows that women requires 10 more minutes to pick up from the start of the play time.
In this kind of situation, men can help their partner reach their finish line by engaging in foreplay before the real thing.