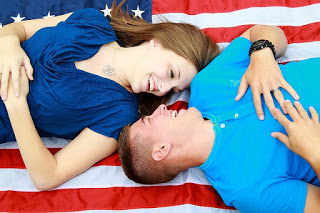 Usually before marriage, both partners always have to cuddle up and even go for swimming, watching movies in cinemas, shopping and doing all other type of activities together.

But once marriage set in and children begins to come forth, women always find it difficult to have time for their husband as they begin to focus more on the children.
Although, i know it's not an easy task to take proper care of the children because as a child grows up, the more the mother needs to keep an eye on her until the child becomes an adult to take proper care of herself.
In as much as women are responsible for all domestic work and taking care of the children, she still need to know that she has to take care of the husband too.
Some women do think that since their husband is an adult, he can probably take care of himself and they should rather devote their attention on the children that are yet to know their right from left.
Even if your husband is an adult, he should never be neglected. In fact, you should try and give him all your attention.
Remember that if he is not there for you in the first instance, the children won't be there too.
To be sincere with you, if you take proper care of your husband and give him adequate attention, he will surly love you and your children the more.
To elaborate further, the following are the ways you acn make your husband your top priority:
1. Be submissive to your husband
Being submissive to yoour husband makes him feel like he is the head of the family. It makes him 100 percent responsible for you and for your extended family at large.
When you hand over the role of being in control of everything to your husband, it makes him feel important and never want to disappoint in taking care of his responsibilities.
2. Respect your husband's decision
Women must learn to respect every opinions of their husband as the head of the house. Allow him to lead and let his decisions be final.
Joint decision in a marriage is healthy but allowing your husband to make decisions and you follow is a way to make him feel like he is your main priority.
Respect is said to be reciprocal. If you respect your husband's decision, he will surely respect yours in return even when it is done unconsciously.
Age shouldn't matter in a marriage, even if you are older than your husband, you still have to show him that he is head of the family.
3. Ask your husband what he loves most
Sometimes you can spice up your marriage a little bit by asking your partner what he loves most. This is usually makes him feel special and even love you back the more.
Often times, when partners are being asked this kind of qustion as regards to what he loves most, he might not be able to give an appropriate answer as he is just short of words. All you can do in this kind of situation is to give him a clue by asking him things like;
– Do you like the way i dress?
– What type of dress do you usually find attractive on me?
– Do you like the dishes i do prepare for you?
– What is your favourite intimate position on bed?
Infact, once you begin to ask him all these questions, he will surely start off from where you stop by expressing his preferences to you.
4. Give him preferential treatment Once in a while
It's usually fun when you as a woman give your husband special treatment once in a while
You can decide to prepare him his favourite meal or even take him out for a dinner to have fun together.
5. Engage in his favourite hobby with him
As a woman, you can show your husband how important he is by doing some of his favourite activities with him. For example, for men that loves watching football, you can decide to join him in watching some of the football matches amd if your husband is the type that loves to watch movies, you can find time to also engage with the movie with him.
What if your husband is the type that is usually stressed out after a long day at work, all you can do is to probably gist with him while he is resting to show him that you still care about him.
Besides, when you make your husband your top priority, you will also be well respected by people aroound as they continue to see you as a virtuous woman.