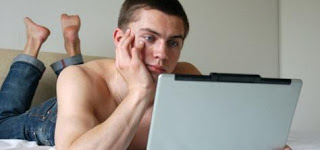 Dating a mama's boy can be so frustrating at times when you have to deal with certain issues your boy friend could not be able to handle on his own due to interference from thrid party.

In as much as dating a mama's boy can be so annoying, you can't get to overlooked the fact that mama's boy do know hoe to take proper care of a lady.
They often show more respect to a lady and pay attention to a lady's needs and wants based on the fact that they were brought up by a mother who often showers them with love and affection and most importantly how to treat a woman right.
As a lady, you can easily identify a mama's boy if you see these signs:
1. You are competing for his affection
As a lady you should know you are dating a mama's boy if you find out that you are always trying to gain your boy friend's attention to your side.
You do try everything within your reach to have his focus on you as he only has all the love and affection for his mother.
2. His mother does his laundry for him
As a mama's boy, his mother does all the washing, cleaning and cooking for him. May be she does all these things for him probably because he is the only child or the mother doesn't want any stress for him.
3. He always take sides with his mother
It's just very easy to know if your boy friend is a mam's boy if he is the type that do back up his mother in whatever she does.
He tend to see everything that his mother does as the right thing even when she is absolutely wrong.
4. The mother supports everything he does whether good or bad
You should know you are dating a mama's boy if his mother is happy with all he does evn when he shows up with bad character.
READ ALSO: 7 Ways To Identify A Husband Material
His mother usually becomes the backbone of his bad behaviour, she tends to find something reasonable in every wrong he does.
5. His mother decision is the final
If you are in a relationship and you realized that your boy friend doesn't have a say of his own and his mother's decision is always final in any situation, then you should know you are dating a mama's boy.
A mama's boy will always keep mute while his mother makes all the decisions forr him.
6. He compares your food with that of his mother
Mama's boy are so fond of their mother's delicacies that they can't even eat their girl friend food anymore.
They tend to be used to their mother's taste of food, thus making comparisons of their girl friend's cooking style with that of their mother.
In as much as you are dating a mama's boy, he will continue to prefer his mother's food over yours.
7. His mother usually check on him unannounced
Mothers love and care is all what we cherished and pray for but once the mother start to intrude in the privacy of her son, then it becomes unaccepted.
A mama's boy will always have his mother check on him from time to time without prior notice.
8. Both of them talk like every minute
You hav probably noticed that your boy friend talks with his mother on phone every minute even when they don't have anything meaningful to say, it's definitely a sign you are dating a mama's boy.
9. He always wants you please her
If your boy friend is the type that always wants you to do something for the sake of his mother to be happy, it's surely a sign you are dating a mama's boy as he will always want you to satisfy the desire of his mother just to please her.
READ ALSO: 7 Signs He Is Hiding Something From You
10. He consults his mother before doing anything
One of the signs common with mama's boy is that they can't do anything without their mother's consent.
He likes to seek the opinion of his mother before he attempts to lay his hands on anything.
11. He can't stand up to his mother
A mama's boy will always find it difficult to stand up to his mother not to even talk of defending you when the need arises.
He is always afraid of what the outcome will be if he decides to defend you by correcting his mother's wrongs.
12. He shares intimate details with her
If your boyfriend is the type that shares personal details concerning both of you to his mother,he's definitely playing along as mama's boy.
He confides in his mother even up to the extent of exposing your privacy.