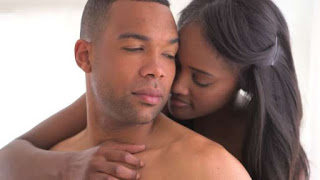 It usually becomes worrysome for most guys in a relationship when they see that their girl's s*xual desire is higher.

The question that pops up every time is how you can make the best of your relationship when your girl s*x drive is above yours?
This question may sound unfamiliar with most guys as it appears that guys are more active than the ladies when it comes to pursuing s*xual desires.
Anyway, if you find yourself in a situation where your babe s*x drive is above yours, below are the five ways to make things work out for the best.
1. Try to admit it
The first steps towards making things better is to remove shyness and admit the fact that her s*xual desire is above yours.
I know it might be difficult to admit it as men are always expected to be more s*xually proactive but at some point you just have to admit the truth and find possible solutions.
2. Talk About it
Admitting it is the first step but talking about it is a step further to tackle the problem
Communication in a relationship helps to ease things.
When both discuss about the issue, it helps you to know what she wants, expectes and the changes you need to make so as to reduce the tension especially in the bedroom.
3. Improvement
Talking about it makes the problem half way solved but trying to improve on it makes it better.
Dismiss every form of complaints and try to improve on the discussed issue.
Using performance enhance drugs is not the way forward, instead eat well, exercise regularly and drop every habits that may lower your libido.
4. Try to Make Her comfortable
While both of you try to see to the situation, never make any silly remarks during this process.
Try to make her comfortable and not making any unneccessary jokes at her.
Some women takes this as a sensitive issue, so be careful not to joke randomly about the situation.
5. Encourage her
With all these being done, there is still need to encourage her in everything. Always try to complemet her in addition with not saying silly remarks.
Try as much to encourage her and not to say words that will weigh her down to do s*xual things.