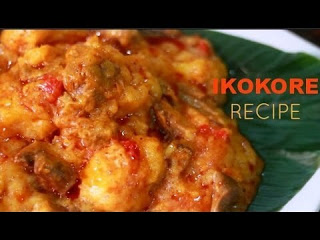 Ikokore which is also called Ifokore, is a typical Ijebu food, a type of food which the Ijebu's ( a small group of people in Ogun state part of Nigeria) cherish so much.

Nigerian dishes which are usually quite simple in its component are also rich in taste and attractive to tourist at the same time.
Most Nigerian dishes do make use of herbs and spices to make their dishes aromatic, tasteful and delight to the eyes.
 What is Ikokore?
Ikokore is a kind of yam porridge which is prepared with a special type of yam called "Water yam (Isu Ewura)".
The water yam which have a lot of hair on its skin is usually slim in size especially when you cutting it.
If you really want your ikokore ijebu to be extremely tasteful, colorful and nourishing just the Ekiti's do with their pounded yam, then you need to add as much as you; a fish or meat. You are also free to use chicken, goat meat, smoked fish and so on.
 Ingredients For Ikokore
In preparing this type of dish, first you need to put the ingredients in place and it includes:
Salt
Knorr Cube
Water Yam
Ground Cray Fish
Chopped Fresh Pepper
Pieces Of Beef
Chicken
Dried fish or smoked fish
READ ALSO: The Best Grilled Chicken Recipes Ever
 How to prepare Ikokore
Here we bring you the simple steps for the preparation of the popular IJebu dish.
1. Slice the water yam into smaller chunks for easy grating.
2. Peel the water yam and remove the hairy part, rinse and grate as finely as possible into a clean bowl.
3.Now get a pot, add some water to boil. Add palm oil, add pices of meat and fishes, add crayfish too and blended pepper, add salt and seasoning cubes. Allow to boil.
4. While boiling, take out the the pieces of meat/fish as many as you can, if you don't do this, the meat and fish will be stuck at the bottom of the pot when the Ikokore is done cooking.
5. After you have taken out those pices of meat and fishes, add a piece of bouillion cube and some salt to the grated water yam and mix, because it is going to be in lumps if you want it to have to some real good taste.
6. Start adding the lumps of water yam to the boiling pot (if the water is hot enough the balls of water yam should float).
8. Cover the pot and allow to coook for about 10 minutes.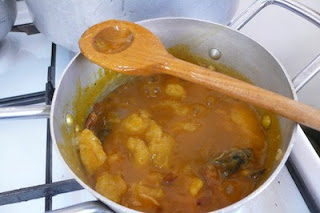 8. Now you can start adding the pieces of meat/fish you took out earlier and sprinkle on some ground caryfish and chopped fresh peppers (atat rodo). This gives it a lot of flavour.
Note: you don't need to mix the ikokore when cooking at all. Just let it cook.
Watch Video below: