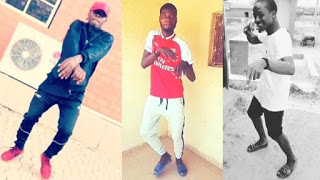 Shaku Shaku is the new dance step which has really been trending in 2018 with sevearl celebrities like Olamide, Lil Kesh and so on certifying and endorsing the new dance steps.

Sha Shaku which fast taking over, sounds like what the witch doctor recommended but it's simply a dance popular among the streets of Lagos.
The dance which everyone has been craving to learn has quickly emerged into the minds of top artistes including the self acclaimed king of the streets, Olamide and Lil Kesh, even up to the so to say "Aje-buttered", Davido and also the billionaire daughter, DJ Cuppy who is definitely trying different style of the dance.
No doubts, Nigerians love to dance their way in any occasion but this new one is here to stay as it will rocked in clubs and parties, not excluding weddings and concerts.
This 2018, i bet most artistes with their choreographers will be ready to incorporate this new dance in their music videos.
So what brought about the Shaku Shaku dance?
The dance step which is said to have originated from the streets of Agege area of lagos state became popular after Olamide's "WO' music video with the artiste and the dancers display the dance moves, thereby endorsing a new dance step in Nigeria.
Dammy Krane has also released a song named after the dance and since then several top msuicians in the country like Mayorkun, Tiwa Savage, Niniola, Davido, have danced Shaku Shaku.
So how can one do this tricky dance step called "Shaku Shaku"?
According to one of the popualr dancer, Kaffy, she said "Shaku Shaku is a practical thing where by you fold your hands a bit, cross one arm over the other, then you bend one knees and do something like a hippty hop, which is almost like doing the gangnam style. All other moves which are added depends all the skills of the person dancing it."
Below is 10 best best Shaku shaku dance videos: