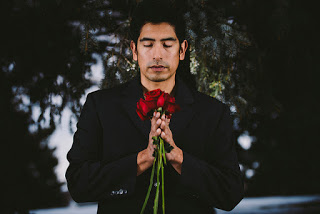 Based on an adage that says "Seeing is believing", what you don't see you can't easily belief.

A guy might say the three letter word "I love you" to you but don't necessarilly mean it and a guy might truely be in love with you but find it difficult ot say it or express himself to you.
It doesn't matter whether a guy say it to you or not, what matters most is the ability to see the signs yourself that he is truely in love with you.
So if you are still in doubt of whether a guy love you or not, these are probably the signs you should look out for:
1. Check out the ways he stares at you
Face expression is the very first thing you should look out for in a guy.
If a guy is in love with you, the way he stares at you will definitely be different.
He would try as much as possible to maintain a romantic eye contact with you even as his body language shows it all.
2. If he notices every little thing about you
If a guy do notice every little change on your body, it means he cares about you and probably it's a sign he's in love with you. A guy that love you will try to pay attention to every detail about you.
3. He desire to meet your family
We all know family is of much importance to everyone, and if a guy is so anxious to meet your family, it definitely mean he wants to be part and parcel of you.
If a guy is in love with you, he will not hesitate to know your family or to know your background.
READ ALSO: 10 Signs You Are Dating The Wrong Person
4. He treats you like his major priority
When a guy treats you like a queen, focus all his attention on you, gives you surprises, gives you the best you ever wanted and shower you with lots of gifts, you should know he is defintiely into you.
When a guy loves a lady, he will find every bit of opportunity to show his love to her.
5. When a guy envisages his future together with you
Every guy has his own dreams and future but when a guy start to talk about his future with you and discussing how both of you can make it a better one, then the guy is stylishly telling you what he feels about you.
6. He always makes effort to make your relationship work
Being in a relationship with a guy does not necessarilly mean the guy is in love with you. But when a guy put all his efforts in making the relationship work out, then it is a signal that he definitely wants to be with you.
7. He's proud to hold your hands in public
In as much as most guys likes to do their things privately, some guys still make it a duty to hold your hands in public. These kind of guys wants the whole world to know that they are proud of you. so you should definitely know that this type of guys rae not just there for fun, they are there because they do love you.
8. He wants to show you to his friends
Guys likes to show off what they've got especially if it is something they are proud of. If a guy always wants his friends to meet you, then it's a sign the guy really likes you and he is not ashame to be with you and show you off to his friends.
9. He probably wants to make himself better person for you and not try to change for you
Some guys do change their behaviour all because of a lady, but i can tell it will only last for a short while. But when a guy simply try to adjust his behaviour positively or try to be a better person for you, then you should know he wants to be with you for a very long time.
10. He always wants to be around you
A guy would find every means to be with a girl or probably wants to hang around her every now and then if he feels something for the girl.
Every guy would love to be with something they can't do without.