Young M.A whose real name is Katorah Kasanova Marrero is an American rapper, songwriter and performer who came to prominence for her hit single "Ooouuu" as accompanied by a music video that boasts over 300 million views on YouTube.
She is a very good freestyler who already had success with a series of freestyles gaining lots of online streams.
She has been featured on ad campaigns for the likes of Pandora, Google Pixel 2, and Beats by Dre and also featured on the Forbes Under 30.
Young M.A

Young M.A: Bio, Facts, Photo

Quick Facts
Real Name:
Katorah Kasanova Marrero
Date of Birth:
April 3, 1992
Place of Birth:
New York, United States
Nationality:
American
Occupation:
Rapper, Songwriter
Siblings:
Keneth Ramos
Height:
5 feet 5 in
Net Worth:
$3 million
Early Life
Young M.A was born in New York City, the United States on April 3, 1992. She is of mixed ethnicity as her father is Puerto Rican while her mother is from Jamaica.
She grew up alongside her brother, Keneth Ramos with their mother who later decided to relocate to Chesterfield to provide them with better school facilities. She graduated from Sheepshead Bay High School in 2010.
READ ALSO: BIA Biography: Wiki, Real Name, Age, Songs, Net Worth
Career
Young M.A developed a passion for music at a tender age when she began to write rhymes in her school books. She was encouraged by her mother and purchased a karaoke machine for M.A. to set up as a studio in her closet.
She came through professionally as she self-funded a recording studio with local producers and was first known for her freestyle to Nicki Minaj and G Herbo's song "ChiRaq." The freestyle went viral after it was been criticized on a Facebook post in 2014, as the post author made mentioned that the song promoted violent and negative energy.
Young M.A has always been giving the male rappers 'a run for their money as she raps about different topics just like the male rappers, which include "violence, sexuality and wealth".
She released her official debut single "Ooouuu" in 2016 and it almost had up to 7 million streams on Spotify. There were also numerous covers of the song by different top hip hop artists which include the likes of Nicki Minaj, Jadakiss, Remy Ma, Asap Ferg, and French Montana.
Young M.A continue to dish out more exciting freestyles from "Who Run Ir" to "I Get The Bag" which had millions of streams and eventually released her debut album "Herstory in the Making" on September 27, 2019. She released her second studio album "Off the Yak" on May 21, 2021.
READ ALSO: Lady London Biography: Wiki, Age, Hometown, Ethnicity, Songs, Net Worth
Young M.A directed her first pornography film titled "The Gift", a lesbian film produced by Pornhub. She also featured on the song "Unaccomodating" which is a song by Eminem off his surprise-released album Music to Be Murdered By.
Aside from music, Young M.A has made lots of television appearances such as; Hip Hop Squares, Wild 'n Out, Snoop Dogg's GGN, Wendy Williams Show, and MTV's Ridiculousness.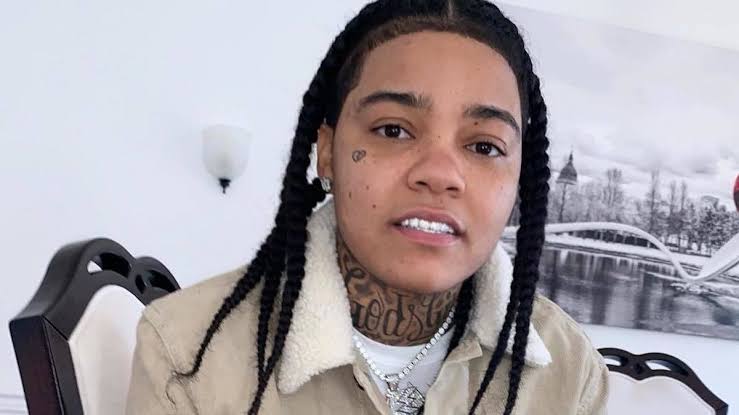 Songs
Ooouuu
Bad Bitch Anthem
Successful
Big Steppa
Trap or Cap
Friendly Reminder
Off the Yak
Hello Baby
Tip the Surgeon
Personal Life
Young M.A has always made details about her sexuality known through her music. She revealed in an interview with Breakfast Club that she has liked girls since the first grade. She made it known that she often fell out of place when she was hiding her sexuality".
However, ever since she came out to her family at the age of 18, she saw it as a turning point in her rap career and became more comfortable in expressing herself through music.
Young M.A. took to her social media page to show off her new beau, Kaylah Golden. Kaylah is a model, digital creator and investor. She has been featured on one of Young MA's music video.
Awards & Nominations
Young M.A has been nominated for awards such as;
BET Awards for Best New Artist and Best Female Hip-hop Artist (2017)
MTV Video Music Awards for Best New Artist (2017)
READ ALSO: TisaKorean Biography: Wiki, Real Name, Age, Songs, Net Worth
Other Facts About Young M.A
Her father was incarnated when she was one year old and released when she was 11 years of age.
Her brother, Kenneth Ramos, was stabbed to death by his former friend.
She played tackled football when she was young.
Her stage name, Young M.A. means Young Me Always.
She launched KWEENZ Foundation with her mother in 2018.
Young M.A. was an independent artist when she rose to fame.
Young M.A. has always been open about being lesbian but does not want it to define her as an artist
Net Worth
Young M.A earns from her career as a singer and performer. She has an estimated net worth of $3 million.
Social Media
Young M.A is active on social media. She has over 6.9 million followers on Instagram @youngma and more than 400k followers on Twitter @YoungMAMusic
Frequently Asked Questions
Below are some frequently asked questions about Young M.A:
Who is Young M.A?
Young M.A. is an American rapper known for her single "OOOUUU".
How old is Young M.A?
Young M.A was born on April 3, 1992.
Is Young M.A. married?
Young M.A is not married. She is in a relationship with model Kaylah Golden.
What is Young M.A.'s Net Worth?
Young M.A. has an estimated net worth of $3 million.