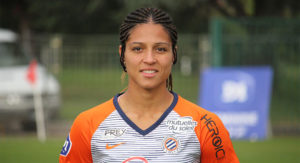 Valerie Gauvin is a professional French footballer born on June 1, 1996.
Gauvin was born in Saint-Clotilde on the Island of Reunion and later moved to the South-West of Mainland France with her mother at the age of 4.
She's known for her playing position as a striker for both Montpellier in the divison 1 feminine and for France national team.
Valerie started out her football career as a goalkeeper before she converted to a striker and ever since then she has been a sensation to watch on field.
With a height of 5 feet 8 inches and her amazing skills, she has been a nightmare for defenders.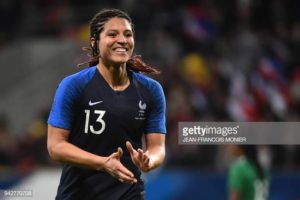 She joined Toulouse at the age of 12 and at the age of 16 she was already in the senior team in the Division 2 feminine.
She played for Toulouse in the Division 1 feminine before being relegated back to the division 2 feminine.
Gauvin returned back to the division feminine in June 2014 after joining Montpellier. She had a successful there where she netted 13 times with 17 appearances and also led the team to the 2017-18 UEFA Women's Champions league.
Valerie Gauvin had represented France at the U16, U17 and U20 competitions. She scored her first goal for the French senior team on October 8, 2017 where they defeated Ghana 8-0 in a friendly match. Gauvin also scored a hat trick in a 8-0 victory against the Super Falcons of Nigeria.
Social Media Profile
Instagram @gauvinvalerie
Twitter @GauvinValerie
Facebook – Valerie Gauvin