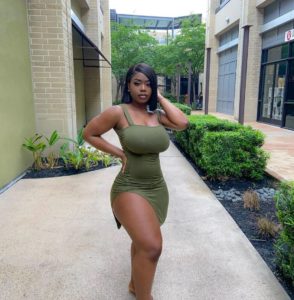 Uche Mba is a popular Nigerian Instagram model and fitness trainer born on March 29, 1997.
Uche Mba is well known for sharing fitness tips, meal plans and work outs on social media.
Body Measurements
Height: 5 ft 7 in
Weight: 64kg
Waist-size: 24in / 63 cm
Hip Size: 38 in /97 cm
Dress Size: 8 (US)
She is quite beautiful with amazing curves.
According to her, she didn't involve herself in any surgery to get her desired shape
She has been able to achieve her shape with exercise most especially squatting.
She successfully transformed her physical shape from a skinny lady to a banging body.
Career
Uche Mba started out career as a model. Although she is a versatile individual with diverse range of talent.
She had attended nursing school while working as a model.
Mba is an entrepreneur with numerous businesses. Some of which include; a fitness website known as "Uchembafit", a cooking page called "Cookingwithuche" and also a cosmetics line.
She also has a website "uchemcollection.com" where she dishes out fitness equipment and meal plans.
READ ALSO: Sandra Benede Biography: Age & Pictures
Controversies
Uche Mba has been accused several times of enhancing her body the unnaturally as opposed to what she claims and hence she posted a picture and wrote on her page, see below: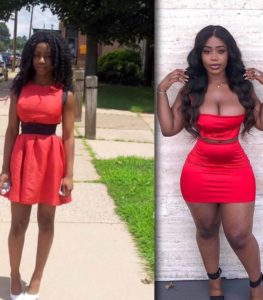 Okay Im DONE deleting shit. Everyone is entitled to their opinions, but I'm no longer gonna feed into the negative opinions and let it affect the people I'm actually trying to motivate. People love discrediting others hard work. If I didn't put in the amount of work I put in, getting older and genetics wouldn't have done much for me at all (minus my boobs cause those just came in on they own lol ) and I'm only 22 years old. There are men and women in their 20s, 30s and 40s who can't gain weight to save their life. My results didn't happen over night, a lot of hard work, patience, habit change, and change in nutrition went into this and I am now comfortable in my own skin and more than proud of my results. If you're struggling like I was trying to gain weight, don't give up and don't look for the easy way out. Good things take time. One of my main goals starting next year is to post MORE informative good quality content that'll be more helpful to those struggling such as my workouts etc cause I know there are many many out there struggling to put on healthy weight. Both men and women, don't let anyone discourage you from achieving your body goal, weight los or weight gain 💕 (link in bio) #weightgainjourney
Personal Life
Uche Mba is not married.
Net Worth
Uche Mba is estimated to have a net worth of between $100k -$1m.
See her work out videos below:
Social Media Profile
Instagram @uchemba
Twitter: @iamuchemba
Snapchat: uchelovemba