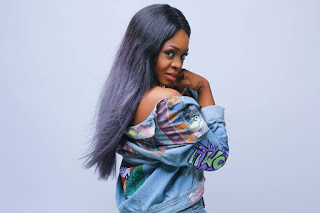 Toby Grey biography, networth, age, songs, music career,endorsements, awards and nominations.

Toby Grey Biography (Key)
Real Name: Tobiloba Mariam Adeyemi
Stage Name: Toby Grey
Date Of Birth: Jan 29, 1994
Place of birth: Osun state
State of origin: Ogun state
Record Label: Grey Nation
Genre: RnB, Dance hall
Occupation: Singer, Song writer
Nationality: Nigerian
Toy Grey whose real name is Tobiloba Mariam Adeyemi, is a Nigerian singer, song writer and performing artiste.
She was born in January 29, 1994 in Osun state and hails from Ogun state part of Nigeria.
Toby Grey had her pre-degree at the Obafemi Awolow University, Ile-ife, before she later graduated from the University of Lagos where she had studied French language.
The singer who had discovered her talent in music at the age of 16, got into the music scene fully in 2011, drawing inspirations from the likes of Asa, Leona Lewis and Ciara, which had a great impact in her career.
Toby Grey who had released several tracks like "Gbono" produced by Fliptyce, "Gbalowo e" produced by Antras, "Harmony and Love", came to the spotlight with the release of her cover to Kiss daniel's smash hit single "Woju" in 2015 which she titled "Gboju" and had since gone viral with massive airplays.
"Gboju" was produced by Drmphase as it encompasses the same lyrics with that of Kiss daniel's original version while adding in some flavour.
Ever since she gained attention, Toby Grey has been priviledged to work with different top producers across the country. To mention but a few; Young D, Fliptyce, Da piano, Drumphase, Puffty T and so on.
Toby Grey Songs
Toby Grey had so many songs since she started doing music. Some of the songs to her credit include:
Gono
Gbalowo e
Harmony and love
Gboju (Woju cover)
Love Dosage
Applaudissez
Konibaje ft. 9ice & Skales
Do
Na U ft. Soma
You & I
Awards And Nominations
Toby Grey with her amazing talent and unique vocals, have been nominated for several prestigious awards which includes:
City people awards (Best promisng female act 2015).
Nigeria Acheivers Awards (Best promisng female act 2015)
Scream All Youths awards (Female rising act of the year 2015)
ANUCA Awards (Best female University act 2015)
Lagos Fashion Awards (Most fashionable fast rising act 2015)
Miss Tourism Ogun Awards (Recognition award 2015)
Emerging Afrian Leaders Integrity Awards (Entertainment awards 2016)
PRIX Special DU Directeur (Artist Villageois 2016) – French Award
NADALIFE Magazine U.S.A (Best Best New Artsist 2016)
NEA Awards – Best New act 2016
African Culture Initiative Award in Atlanta (New Artist of the Year)
ENDORSEMENTS
Toby Grey whose song was quicky embraced by numerous fans, her talent for music and hardwork hasn't gone unnoticed, thus earning her some endorsements. They include:
Tourism Ambassador
Brand Ambassador – Mindful Nigeria
Ambassador for Peace (Panda – Kau L.G.A)
NUMAT Ville (Project for promoting National Unity and Tourism)
That's all for Toby Grey biography, networth, age, songs, awards, nomiations and endorsements. Kindly beep us through the cooment section if there is any addition.