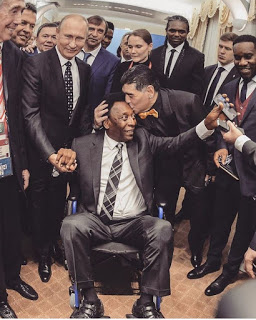 Brazilian born football legend, Pele arrived at Moscow on a wheel chair for the 2018 world cup draws.

The former Brazilain striker was pictured with other football stars including: Jay Jay Okocha, Kanu Nkwankwo, Maradona and so on.
The first time i came about this pictures, i said to myself that how come someone who was very energetic, strong and skillful on the field of play now get to be sitting down on one spot with support on the wheel chair.
Such is life but more lessons have to be learnt from it.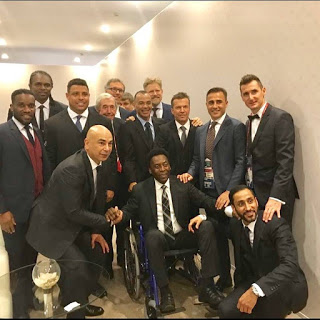 Pele, whose real name is Edson Arantes do Nascimento, was widely regarded as the greatest player of all time. Pele is the most successful league goal-scorer in the world, scoring 1281 goals in 1363 games, which included unofficial friendlies and tour games.
Pele began playing for Santos at age 15 and for the Brazilian national team at age 16.
Pele is the all time leading goal scorer for Brazil with 77goals in 92 games and also won three fifa world cups.
Pele's spectacular performances on the field of play with superb goals has been so amazing which makes him a star around the world and his club, Santos took absolute advantage of his popualarity.
After he retired from football, Pele has been a worldwide ambassador for football and has made many acting and commercial ventures.
A team player and prolific goal scorer, Pele has received several individual and team awards for his performance in the field.
Pele was never forgotten for his achievements and will always be celebrated in the world of football even as each day passes by but here are some things to learn from the star who was wheeled to the event in Moscow.
1. Always show love while you still can as Pele had showed during his time of play.
2. Never look down on anyone, your servant today can still be of help to you in future.
3. Use every opportunity well. "Opoortunity they say comes but once", so use every chance you have to your advantage.
Watch his dribbling skills below: