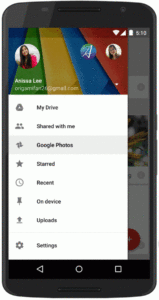 Google back up with Google photos and Google drive has been one the easiest solution to back up your photos, videos, files and other folders.
Although, Titanium Backup is one of the best backup solution for your Android smartphone but it's a paid and meant only for rooted phones.
If you are ready to root your phone, you can use Titanium backup and if not, then go for the Google backup option.
Google on the other hand does a great job, it allows you to backup everything you have on your smartphone such as device settings, installed app data, photos, videos. The most important of all is that it's really pretty simple to do.
Below are steps:
Step 1 – Go to device settings, find backup and reset and click on it. Some Android phones show backup my data and "Automatic restore", just make sure both are toggled on.
Step 2 – Once you are in Backup & reset turn on Back up my data option. Now tap on Backup account.
Step 3 – A pop up window appears to set backup account. Enter your Gmail account (email). If you are already signed in to your google account (Gmail) then you can see your account in this window and if not, tap on add account.
Step 4 – Now you can see your Google account in set backup account window.
Now tap on it to select this account to your backup account. If your turn on your backup option then by default it can backup everything from your device to your Google account.
If you want to specify what to you want to backup to your Google account then go to main menu of settings, now in settings find accounts. Now in Accounts window tap on Google option.
Now it will open sync options to a new window. Here you can see list of your device data by checking and unchecking the right hand side check boxes. You can turn on or off synchronization for specific data.
However, some devices also provide backup option for their users.
In LG G4, go to settings > > Cloud > > Add account > > Drive > > Gmail account > > Allow to use mobile networks > > click the check boxes and sync.
We do hope this was helpful.