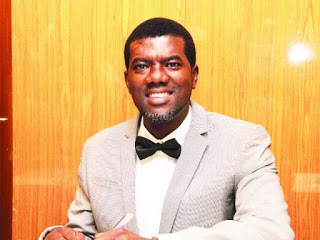 Reno omokri biography, books, Family, state of origin, tribe, life and career.

Born Bemigho Reno Omokri in 1974, is a Nigerian writer and lawyer and also a host of Christian teaching TV show broadcast on San Francisco's KTLN and Detroit's Impact Network.
Reno Omokri is one of the three spokesmen to the former Nigerian President, Goodluck Jonathan who is known for using social media to conduct political surveys and projects undertaken by the Nigerian government.
Reno Omokri who served as a special assistant to Goodluck Jonathan, was also the vice president , Africa, at Joe Trippi and Associates, a U.S political consulting firm.
Apart from political affairs, Reno Omokri is also the founder of a multimedia project, Build Up Nigeria and he is a good writer who has produced so many short films in the U.S.
Omokri who graduated with an LL.M from the University of Wolvehampton, was part of the signatory of letter that called for the resignation of President Musa Yar'adua.
Omokri is also the pastor of the Mind of Christ Christian Center in Carlifornia and Abuja, where he spreads the gospel.
Reno Omokri was also criticized for his statement on twitter saying "Only animals engage in premarital s*x", a view which many didn't go along with.
Reno is happily married to his beautiful wife and their union is blessed with two children.
PUBLICATIONS
These are notable publications of Reno Omokri:
Shunpiking: No shortcuts to God. Deep River Books, 2013.
Why Jesus Wept. RevMedia, 2015.
Apples Of Gold (a book of Godly wisdom)
Facts Versus Fiction: The true story of the Jonathan Years, Chibok 2015 and the Conspiracies. Mind oof Christ Christian.
You can contact Reno Omokri on social media platforms below:
Twiter @renoomokri, facebook @ facebook.com/omokri