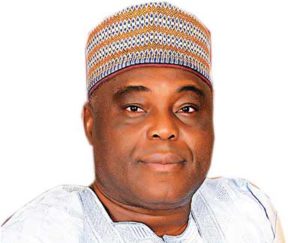 Raymond Anthony Aleogho Dokpesi who is popularly known as Raymond Dokpesi is a Nigerian politician and businessman born on October 25, 1951 in Ibadan, Oyo state.
He is a native of Agenebode in Edo state and has six siblings (sisters).
Raymond Dokpesi is known as the owner of the first ever Satelite TV station "Africa Independent Television (AIT)".
Here are the other 10 interesting things you don't know about him.
1. Raymond Dokpesi attended Loyola College Ibadan and Conception College Benin city for his secondary education.
2. He had his undergraduate studies at University of Benin and obtained his doctorate degree in Marine Engineering at University of Gdansk, Poland.
3. He is the owner of a radio station called Raypower which was established in 1994.
4. He established the first indigenous shipping line in Nigeria.
5. Dokpesi started out as the personal assistant to Alhaji Bamaga Tukur, one of the general manager of the Nigerian Ports Authority.
6. Dokpesi first political assignments was as a political campaign manager for the Alhaji Bamanga Tukur.
7. He was one of the leaders of the south-south People Assembly (SSPA) an organisation that seeks to promote south-south people of Nigeria.
8. He is also a philanthropist having built schools for community and also offered scholarships to prospective students into tertiary institutions.
9. Dokpesi has also received awards such as the Oghieumua and Ezomo of Weppa Wanna of Edo state and also the Araba of Osoro Land Okpe.
10. Raymond Dokpesi is one of the most influential businessman in Nigeria with an estimated net worth of $50 million.