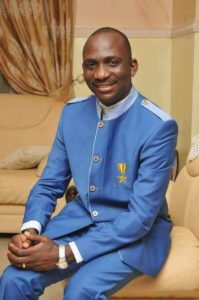 Paul Idoko Enenche is a Nigerian pastor, trained Medical doctor, Christian author, Televangelist and Musician born on June 4, 1968.
Paul Enenche is well known as the founder and Senior pastor of Dunamis International Gospel Centre with its headquarters in Abuja, Nigeria.
He is endowed with the double edge gift of scientific knowledge as a medical doctor and the anointing of God to heal, save and deliver.
As the set man of the house, he brings hope to the hopeless and gives them a reason to fulfill destiny.
Eneche is one of the most sought after speaker by government and organizations, having a passion for the youths.
Dr Paul has been able to impact positively into many lives through his messages and undiluted word of truth.
Early Life
Dr Paul Enenche is from the Idoma tribe in Benue state.
He was born in Otukpo on June 4, 1968 to the family of Chief D.E, a paramount ruler of Orokam district in Ogbadigbo local government area and his mother name is Titi Enenwa Enenche.
He is also the younger brother to General John Enenche, Nigeria's Defence Spokesman.
Career
Dr Paul Enenche went into full time ministry after he had embarked on a personal retreat on the Plateau hills in Jos. He had to put his medical certificate aside and went to Abuja to start a church in 1996.
Dunamis International Gospel Centre was founded on November 10, 1996. Dunamis is a greek word which means 'Power'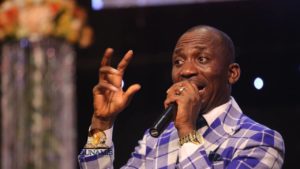 Pastor Paul's spiritual influence has been pointed to the likes Bishop David Oyedepo, Pastor E. A. Adeboye, John Wesley, Keneth Hagin, Smith Wigglesworth and Keneth Copeland.
He established a Bible training programme knwon as the Dunamis School of Ministry (DUSOM) to train future pastors. Enenche and his wife, Becky, are the co-authors of the Seeds of Destiny, a daily devotional guide published monthly.
Dr Paul is the overseer of Destiny Academy and Destiny College owned by the church. He is also the overseer of Destiny Publications, run by the church.
READ ALSO: Sinach Biography – Age, Songs, Net Worth & Pictures
The Ministry als started its own satelite television station in Nigeria with the establishment of the Dunamis TV/Radio.
Family
Paul Eneche got married to his wife, Becky Inyangbe Ibu, a medical doctor, in 1994 and their union is blessed with four children.
Books
Dr Paul Enenche is an author of many books which include
Protocol Suspended
Financial Wisdom
Who Are You
Vision for the Top
Access to Possibilities
The Story for The Glory
30 Secrets to the Top
Reason for Living
Seeds of Destiny
Career and Workplace Wisdom
Songs
I Can't pay you Lord
Metu M Aka Gi
Hunger in my Soul
When You Are There
I Want to Live Here You Are
With You Lord
Breathe on Me
Close To You
Net Worth
Pastor Paul Enenche is one of the most richest pastor in Nigeria with an estimated net worth of $25 million.
Contact
Address – Dunamis Arena- Beside old Federal Secretariat, Area 1, Garki Abuja
Email – drpaul@drpauleneche.org
Phone number – +234 803 3144 509, +234 803 2003 200