Prince Hinedu (Ned) Munir Nwoko, popularly known as Ned Nwoko, is a Nigerian lawyer, politician and businessman born on December 21, 1960.
Nwoko was born into the Royal Palace at Idumuje-Ugboko, in Aniocha North LGA, Delta State. He is also a Muslim.
He obtained his first degree in Law and History from the University of Keele in Staffordshire, United Kingdom and a Masters degree in Law at King's College London. He has a honorary doctorate from the Commonwealth University College in Belize.
He is simply a goal getter which has allowed him to excel in both academic and professional sectors of the economy.
He began to trend online for his alleged marriage to the beautiful and young Nollywood actress, Regina Daniels.
READ ALSO: Regina Daniels Biography: Age, Profile & Movies
Apart from Nwoko's achievement, it seems the billionaire-politician have something for the fair ladies.
We can tell he likes them clean just like his luxurious lifestyle.
Anyway, lets get to know the lawyer turned politician in full details.
Career
Ned Nwoko who had served at the National Assembly, had set up and maintained one of the leading firms in the UK with claims to have practiced as a solicitor of the Supreme Court of England and Wales. Anyway, it has been made known that he can't be found on the law society database as registered solicitor in the UK.
He became a Senior Consultant with Ned Nwoko Solicitors, a London based law firm who deals with the management and verification of foreign debts of third world countries.
As a politician, Nwoko was a member of the Nigerian House of Representatives between 1999 and 2003. He represented Aniocha North-South and Oshimili North-South.
Personal Life
Ned Nwoko who already has 4 wives, decided to add a 5th one which happens to be the popular Nollywood actress, Regina Daniels.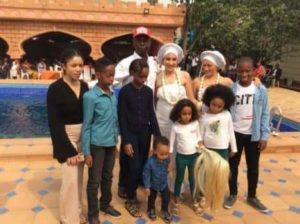 It was alleged that Nwoko got married to Regina Daniels in April 2019 which had caused a stir on social media due to the wide age difference.
Rumors have it that he bought her a house and exotic cars. Although, the marriage is yet to be confirmed by the two parties involved.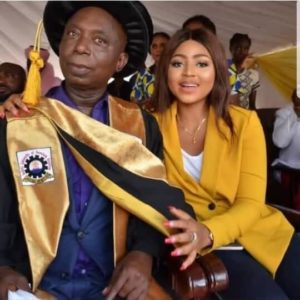 However, the wedding speculation was fueled more with two being seen at outings together most especially on April 27th, 2019 where Ned Nwoko had received an honorary doctorate degree from Federal University of Petroleum Resources Effurun, FUPRE, Delta State, Nigeria.
It was revealed that his last wife before Regina, is from Morocco.
Net Worth
Ned Nwoko has been said to be a man of honor with all his achievemnets.
He has a mansion in his home-town, which is an architectural masterpiece and a tourist center as described by experts.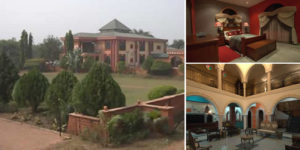 Both the interior and exterior of the house is a combination of Arabian and western designs complimented with a royal traditional touch.
It has an Olympic size swimming pool, tennis lawn, a zoo which has different species of weird animals such as Crocodiles, Ostriches, Horses, Sea Eagles, Monkeys, Rabbits and so on.
The land portion of the mansion has fish ponds with 50 thousand catfish and poultry with almost 5000 chickens
The mansion is estimated to worth a sum of 10 billion naira. He also has fleet of expensive cars added to his landed properties.