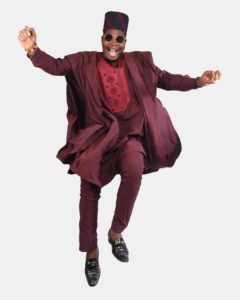 The 'fantabulous' comedian, Mr Macaroni has been doing well in the Nigerian entertainment scene ever since he came to limelight with his style of comedy that focus mainly on men who loves to lavish money on girls.
He is well known with his slang "Oinn" and "You are doing well" which has quickly turned to popular words used by social media users to express their thoughts.
Mr Macaraconi is an all round entertainer with unique content package and advocate of love in new dimension.
Often known with his 'Sugar Daddy' character in skits and his "Agbada" outfit is sure a side attraction to beautiful and endowed ladies.
Here is all you need to know about Mr Macaroni from his Biography to his date of birth, Wikipedia, comedy videos, net worth and of course some of his cute photos to follow.
Early Life & Background
Mr Macaroni whose real name is Debo Adedayo is a popular Nigerian comedian, content creator, MC and entrepreneur born in Lagos.
He was born into a family of 10. His father is a journalist while his mother is an educationist.
He also has six sisters and that simply shows he grew up around women.
He finished his secondary school in 2009. He studied Creative Arts at the Redeemers University.
Prior to that, he had attended 4 different Universities between when he finished his secondary education and 2019 before he eventually graduated. He finally obtained his NYSC certificate on March 5, 2020.
Career
Mr Macaroni started his career as an actor in the early 2014 where he had starred in quite lots of movies and soap operas which include the very popular Wale Adenuga television series "Super Story", Face 2 Face, Family Ties, Papa Ajasco and so on.
He also wrote and produced the movie "Oba Ara", acting alongside Yewande Adekoya.
He later delved into creating online comedy skits with inspiration from the likes of Maraji and Broda Shaggi.
He has been able to develop passion and also fit into being able to do comedy skits online based on his previous experiences from acting.
Mr Macaroni eventually rose to fame with the style of comedy of using endowed ladies to pass messages to men in different ways.
READ ALSO: Gloria Oloruntobi 'Maraji' Biography: Age, Family, Net Worth & Pictures
Often characterized with the way he removes his "glass" from his face and using his usual slogan "You are doing well", Mr Macaroni has been able to cut across different people 'both young and old' on the various social media platforms.
Debo's skits are Satirical; he tries to mimic the society and at the same time pass across messages with his characters.
He has worked with top actors and comedian in Nigeria which include the likes of Adedimeji Lateef, Broda Shaggi, Taaooma, Woli Arole, Seyi Law and many others.
Net Worth
Mr Macaroni is one of the fast rising Nigerian comedian and entertainer with an estimated net Worth of $150,000.
Watch some of Mr Macaroni comedy videos below and laugh away your sorrow.
Social Media Profile
Instagram @mrmacaroni1
Twitter @MrMacaroni
Facebook – Mr Macaroni