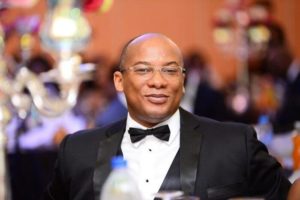 Mitchell Elegbe is a Nigerian entrepreneur, engineer and philanthropist born on November 14, 1973.
Mitchell is a graduate of Electrical Engineering from the University of Benin (UNIBEN), Edo state.
He is also an alumnus of the Global CEO Program organized by IESE Business School, The Wharton School and China Europe International Business School (CEISBS) for senior executives of organizations.
Elegbe is the managing director and Chief Executive Officer of Interswitch, an integrated payment and transaction company in Nigeria.
Career
Mitchell Elegbe began his career with Computer Systems Associates (CSA), a software implementation company connecting banks to the Society for Worldwide Interbank Financial Telecommunications (SWIFT).
He then got a job as a business developer at Telnet, an ICT engineering and consulting company before he later moved to Schlumber Wire line & Testing in Scotland as a field engineer.
While in Scotland, he had his first experience with an automated teller machine (ATM) where the machine had seized his card and hence felt embarrassed.
During this era, there were no ATM machines in Nigeria and that had gave rise to the thought by Mitchell to have an automated teller machine in Nigeria. He decided to bring an idea to bring about a payment system that would make the electronic payment a reality in the country.
On his return to the country, Mitchell was reemployed by Telnet telecommunications where he told his boss about the electronic payment idea and was authorized to carry it out.
However, the whole idea didn't go as planned and so he started selling the software for switching but most players he sold to were not interested and this had gave rise to him creating Interswitch in order to meet his targets.
Elegbe founded Interswitch in 2002 with the sole aim to ease the burden of money transfer, cash deposits and withdrawals in Africa.
The name" Interswitch" which was coined from international, interconnect, interactive and then 'The Switch', has help to change the face of electronic payments in Nigeria.
Some of the products owned by Interswitch include:
Verve – One of the most used payment card in Nigeria.
Quickteller – An online payment platform.
Retailpay – A mobile business handling platform.
Smartgov – An infrasture that manage identity and e-payment infrastructure for state governments.
Awards & Recognition
CBNBC/Forbes All African Business Leader (AFBLA) for West Africa.
Ernst and Young Entrepreneur of the Year Award.
Harvard Business School Association (Nigeria) Leadership Award in the General Management category.
Financial Technology (Fintech) Africa Awards, Payments and Transfer category in 2016.
READ ALSO: Ibukun Awosika Biography: Family, Net Worth & 10 Other Things You Don't Know About Her
Personal Life
Mitchell is married to Mrs Mercy Elegbe and their union is blessed with three children
Net Worth
Mitchell Elegbe is one of the most influential Nigerian entrepreneur with an estimated net worth of $26 billion according to online sources.
Contact
Address: Plot 1648C, Oko-Awo Close, Victoria Island. Lagos, Nigeria.
Telephone Number: 01-6283888, 07009065000
Emmail address: [email protected], [email protected]
Website: Interswitchng.com
Social Media Profile
Twitter: @MitchellElegbe
Linkedin: Mitchell Elegbe