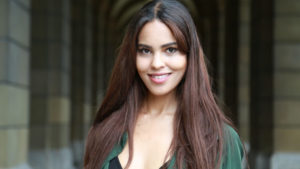 Jill Asemota is a popular Nigerian model, fashion stylist, tv host, blogger and entrepreneur born in 1986 at Heidelberg.
Jill started her career as a model in 2003 and had worked in New York and Cape Town at the age of 18.
At the time she was 23, Jill Asemota came through with her own fashion label "Chaya". Chaya initially started as a fashion line for women but was later changed to a shirt label for men and women. The T-shirt was worn by most of the German celebrities such as Kool Savas, Xavier Naidoo, Bastian Schweinsterger, Andre Schurrle, Kevin Trapp, Dirk Nowitzki and Felix Sturm. She also worked as a video contributor for the fashion magazine, Instyle and Elle alongside her label.
Here are the 5 other interesting things you don't know about her.
1. She was born to a Nigerian father and a German mother.
2. Jill Asemota is bi-lingual as she speaks both German and English.
3. Jill studied Media and Communication science at the University of Sturtgart and also gained a diploma in TV journalism at the Bavarian TV Academy in Unterfohring.
4. She founded a sport fashion online platform "Style Blog" which mainly features the style of athletes.
5. As a model and blogger, Jill worked with top brands such as Nike, Ferragamo, Beats by Dre, Superga, Adidas, Hugo Boss, Salvatore and so on.
6. She also worked with media houses such as the TV-Station Sky.
7. She has a height of 180, bust 84, waist 65 with an attractive body figure.
READ ALSO: Adunni Ade Biography – Age, Wikipedia, Movies & Pictures
8. Jill Asemota launched her personal fashion blog in 2004 under her own name "jillasemota.de". On the blog, she write about fashion tips, her travels and business experience.
Social Media Profile
Instagram – @jill_asemota
Twitter – @jillasemota
Facebook – Jill Asemota
Snap chat – Jill Asemota
Youtube – Jill Asemota