Dikko Nwachukwu is a Nigerian busineesman who became a topic of discussion after he got married to the beautiful media personality, Zainab Balogun on May 13, 2018.
Dikko is the founder and CEO of JetWest Airways.
He is a Nigerian entrepreneur who loves to be called by his full nameChukwuneme Mohammed Dikko Olayimika Dienbo Nwachukwu just to show his Wazobia nature and love for cultural heritage.
Here are the 5 oher things you probably don't know about him.
1. Dikko was born in 1973 to an Igbo father and Yoruba/Kalabari mother.
2. He had his early education in the UK before he relocated to US where he obtained a degree in Economics and Political Science from the University of Massachusetts.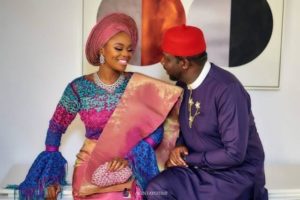 3. He has worked many top Nigerian organizations such as Aero Contractors, Red Investments and so on.
4. He served at the office of he Abia state Government as a special adviser of trade and investment.
5. Before Dikko Nwachuwku got married to Zainab Balogun, Dikko was married to his first wife, Funmi in 2007 till her death in 2015. Their union produced two children, Ethan and Eli.
READ ALSO: Zainab Balogun Biography – age, Movies, Awards & Pictures
Note: Net Worth unavailable, updated soon.
Credit: Stargist, Nairaland
Twitter @dikkonwachukwu