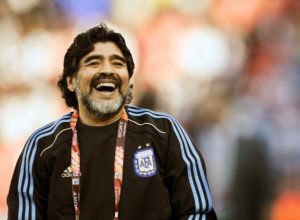 Short but fearless Diego Maradona is a popular retired Argentine professional footballer and manager of Mexican second division club Dorados de Sinaloa.
Maradona is known in football for his impressive dribbling skills and passing accuracy.
His small stature is an added advantage as he could withstand pressure well while running with the ball attached to the body while dribbling, one of the similarities between him and 5 times Ballon d'Or winner, Lionel Messi.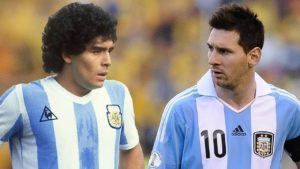 His impressive performance on field had earned him one of the greatest football player of all time.
He was considered to be highly creative with ball, he was a strategist and a team player and could create something from limited spaces.
Aside his skills, Maradona's leadership quality on field is second to none. As a team leader, he would speak up when need to on a range of issues on behalf of the players.
In fact, Maradona is a rare talent, an advanced play-maker and a classic number 10.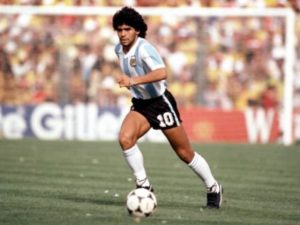 Background Information
Full Name:                           Diego Armando Maradona
Date of Birth:                       October 30, 1960
Place of Birth:                      Lanus, Buenos Aires
Nationality:                          Argentina
Height:                                 5 ft 5 in
Occupation:                         Footballer, Football manager (Coach)
Position:                              Attacking Midfielder
Of all the clubs he played for, his career was notable for the time with Barcelona and Napoli which was accompanied with numerous accolades.
For the time being with his national team Argentina, he earned 91 caps and scored 34 goals. Although he played in 4 world cups for Argentina but one of his notable moments was in 1986 World Cup in Mexico where he led the team as the captain to a victory over West Germany in the final and won the Golden Ball as the tournament's best player.
However, the quarter-final of the tournament against England was a memorable one for him as he scored both goals in their 2-1 victory against England. His first goal which he used his hand to swipe in the ball into the net is what is popularly known today as "Hand of God" and his second goal where he dribbled from the half length of the field and netted, was voted goal of the century by FIFA.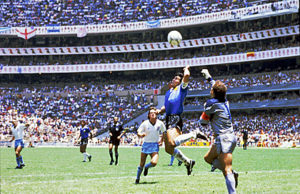 For his outstanding display, Maradona was named "El Pibe de Oro" (The Golden Boy), but there's still more to know about him.
Here are the 20 other interesting things you probably don't know about him.
1. He was born Diego Armando Maradona on October 30, 1960 in a Roman Catholic family at the Policlinico Evita Hospital in Lanus, Buenos Aires province'
2. He was raised in Villa Fiorito, a town on the southern outskirts of Buenos Aires, Argentina.
3. He is the fifth child and first son of his parents.
4. He has two younger brothers, Hugo and Raul who are also professional footballers.
5. He was spotted by a talent scout at age 8 and became a staple of Los Cebollitas (The Little Onions), the junior team of Buenos Aires Argentinos Juniors.
6. His football career was inspired by Brazilian playmaker Rivelino and Manchester United winger George Best.
7. He made his professional debut for Argentinos Juniors on October 20, 1976, 10 days to his 16th birthday.
8. Maradona became the first Barcelona player to be applauded by their rival Real Madrid fans. Other Barcelona that have been granted such a standing ovation is Ronaldinho ( in November 2005) and Andres Iniesta (in November 2015).
9. Maradona and Lionel Messi are the only players to win the Golden Ball at both the FIFA U-20 World cup and FIFA World Cup. Maradona did so in 1979 and 1986 while Messi own was in 2005 and 2014.
10. He is the first player in football history to set the world record transfer fee twice, first was he transferred to Barcelona for a worl record fee of E5million and the the second was when he transferred to Napoli for E6.9 million.
11. He got married to his long-time fiance, Claudia Villafane on November 7, 1984 in Buenos Aires and they have two daughters, Dalma Nerea (born April 2, 1987) and Gianinna Dinorah (born May 16 1989) by whom he became a grandfather in 2009.
12. Maradona and his wife, Villafane divorced in 2004 due to irreconcilliable differences.
13. His mother, Dalma Salvadora Franco 'Dona Tota' died on November 19, 2011 while his father Diego Maradona 'Chitoro' died on June 25, 2015 at the age of 87.
14. Maradona has played for numerous clubs such as Argentinos Juniors, Boca Juniors, Barcelona, Napoli, Sevilla and Newell's Old Boys.
15. He has also coached teams such as Mandiyu de Corrientes, Racing Club, Argentina, Al Wasi, Fujairah, Dorados de Sinaloa.
16. Maradona's addiction to cocaine had affected his football career. He began using the drug in Barcelona in 1983 and by the time he played for Napoli, he already had a regular addiction.
17. Maradona has a tendency to put on weight and suffered from Obesity. He was obese from he end of his playing career until undergoing gastric bypass surgery in a clinic in Cartagena de Indias, Colombia on March 6, 2005.
18. He has won numerous trophies such as:
Boca Juniors – Argentine Primera Division: 1981 Metropolitano
Barcelona – Copa del Rey (1983), Copa de la liga (1983)
Napoli – Seria A (1986-87, 1989-90), Coppa Italia (1986-87), UEFA Cup (1988-89), Supercoppa Italiana (1990)
Argentina – Fifa World Cup (1986), Artemio Franchi Trophy (1993)
19. He has also won numerous accolades for his efforts such as:
FIFA World Youth Championship Golden Ball (1979)
Argentine Football writers 'Footballer of the Year' for 4 times (1979, 1980, 1981, 1986)
South American Footballer of the Year for 2 times (1979, 1980)
Guerin d'Oro 'Serie A Footballer of the Year (1985)
UNICEF European Footballer of the Season (1989-90)
FIFA World Cup Golden Ball (1986)
World Soccer magazine's Player of the Year (1986)
Coppa Italia top scorer (1987-88)
Ballon d'Or for services to football: France Football (1996)
Player of the Century (2000)
FIFA Goal of the Century: For his second goal against England at the 1986 FIFA World Cup quarter-final
Greatest footballer in world cup History by The Times (2010)
Best Athelete in History by Corriere dello Sport- stadio (2012)
Italian Football Hall of Fame (2014)
20. Diego Maradona Net Worth
Diego Maradona income comes from his salary earnings and endorsement deals with different brands.
As a head coach, he's been paid $150,000 per month which total to $1.6m for the duration of his 11-month contract..
Maradona has endorsement deal with top brands such as Puma, Coca Cola, Hublot and Konami. He also shares advertisements for products he endorses on his Instagram page.
Despite the different incomes for him, he is said to earn relatively low as he is badly affected by taxes.
Diego Maradona net worth is estimated to be $100,000 according to Celebrity net worth.
Social Media Profile
Instagram @maradona
Facebook – Diego Maradona
References. Wikipedia.org, Goal.com