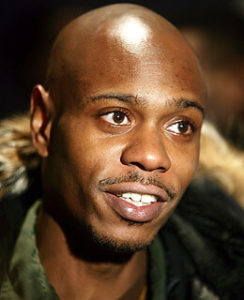 David Khari Webber Chappelle popularly known as Dave Chappelle is an award winning American Stand-up comedian, actor and producer born on August 24, 1973.
Chappelle was born in Washington to his parents; his father, William David Chappelle III, worked as a Statistician before becoming a professor at Antioch College in Yellow Springs, Ohio while his mother, Yvonne K. Chappelle Saeon was a professor at Prince George's Community College.
He was raised in Silver Spring, Maryland where he attended Woodlin Elementary School and also studied theatre arts at the Washington's Duke Ellington School of the Arts.
Career
Dave Chappelle started out his career asa comedian where he performed at Harlem's famed Apollo Theatre.
He came to limelight for his appearance in Rusell Simmons 'Def Comedy Jam on HBO".
He made his acting debut for his role as "Ahchoo" in Mel Brooks' Robin Hood: Men in Tights.
He came through with his own weekly sketch comedy show on Comedy Central in 2003 which is called "Chappelle's show".
Some of the movies he has starred in include;
Undercover Blues
Getting in
Woo
Half Baked
Con Air
Joe's Apartment
Screwed
Chi-Raq
A Star is Born
He is also credited for his roles in Television series such as:
Home Improvement
Buddies
The Larry Sanders Show
Crank Yankers
Wander at Large
Chappelle's show
Happily Ever After: Fairy Tales for Every Child
READ ALSO: Shayne Topp Biography: Age, Height, Movies, Net Worth & Pictures
Awards & Nominations
Chappelle has received several awards for his effort. Some of them include:
Outstanding Comedy Variety Series at BET Comedy Awards (2004)
Outstanding Writing for a Comedy Series at BET Comedy Awards (2004)
Best Comedic Performance at NAMIC Vision Awards (2004)
Best Comedy Album at Grammy Award (2019)
Best Comedy Album at Grammy Award (2020)
He has also got nominations for; Outstanding Variety (Series or Special) at NAACP Image Awards, Choice Comedian at Teen Choice Awards (2005).
Personal Life
Chappelle got married to his wife, Elaine Mendoza Erfe in 2001 and their union is blessed with two sons, Sulayman and Ibrahim and a daughter, Sanaa.
Net Worth
Dave Chappelle is one of the most influential American stand-up comedian with an estimated net worth of $50 million.