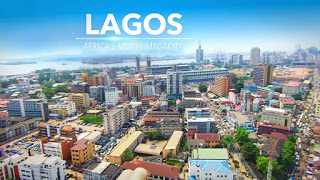 Lagos state is a city in Nigeria, it is one of the fastest growing cities in the world and also one of the most populous urban agglomerations in the world.

Lagos is also a major financial centre in Nigeria and Africa as a whole, and therefore also boast of many financial activities happening around it. Below are the various popular areas in Lagos with the origin of their names;
1. OJOTA
Ojota used to be a military settlement in the late 18th century and soldiers practised their shooting there. The area had several gun firing spots and became known as "Oju Ota" in Yoruba
which means "Bullet spots". It later metamorphosed into Ojota which it is called now.
2. ABULE EGBA
This area is on the outskirts of Lagos and got its name from the early settlers who were Egba people from Abeokuta. The area was first called "Abule awon egba" in Yoruba, which means "Village of Egba people". It later became "Abule Egba".
3. APONGBON
Apongbon is one of Lagos' most popular markets, and it's also quite close to the popular Oke-Arin market. It got its name from the then acting governor of the Lagos colony, William McCoskry, who had a Red Beard. The Yorubas who couldn't pronounce the colonial governor's name decided to describe him by his red beard and started calling him "Oyinbo to pon ni agbon" meaning a red-bearded white man. It later became Apongbon.
4. MAGODO
Magodo is now a posh area, but in the past, it used to be sacred land. The residents had a lot of taboos and one of them was to avoid using mortars and pestles, "Ma gun odo" which means "Don't pound mortar". It later became 'Magodo
5. EPETEDO
Epe is named after the early settlers who were Epe traders. The area became dominated by the Epes and they still trade there until today.
6. EBUTE META
Ebute-Metta is one of the earliest harbour docks where British ships berthed at. It was a hub for trade and commerce in colonial times. Ebute-Metta is a fusion of the words "Ebute" which means the Port/Harbour in Yoruba, and "Metta" which means three.
7. BROAD STREET
Broad street used to be one of the longest and widest streets in the city. It got its name from its broadness.
8. IKEJA
Ikeja, the capital of Lagos, is actually an abbreviation for "Ikorodu And Epe Joint Administration". It was coined by the colonial masters for ease of administration.
9. AGIDINGBI
The British Naval forces invaded Lagos in 1885 under the pretext of stopping slavery and human sacrifice. The noise their canon made was really loud, and the sound was heard round the streets of Lagos Island. The people described the sound as "A gb din gbinnn". Which means a loud groundbreaking noise. The name Agidingbi was borne out of this.
10. VICTORIA ISLAND
Victoria Island was also a major hub for commerce and British ships berthed there often. It's named after Queen Victoria of England who was Queen from 1837-1901.
11. MUSHIN
Where the *ishin* fruits were in abundance due to the *ishin* trees that grows there, and people go there to pick them up. Hence, the word "a fe lo mu ishin', now abbreviated to "Mushin". A statue of it is at Oye roundabout.
12. BADAGRY
There was a rift between the white colonialists and the then Indigene of that area. The whites called it a "Bad Agreement" which the natives who didn't understand English roughly pronounce "Agbada rigi me" This was later corrupted to Badagry by which the Town is known today.
Feel free to add yours if you know more!