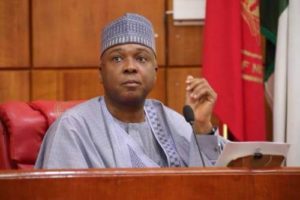 Abubakar Bukola Saraki popularly known as Bukola Saraki is a Nigerian politician, medical doctor, and entrepreneur born on December 19, 1962 in Kwara state.
He was born into the family of Senator Olusola Saraki (father), a one time senate leader of the Federal Republic of Nigeria and his mother Florence Morenike Saraki.
He served as the senate president of the Federal Republic of Nigeria since 2015.
Here are the other 10 facts you don't know about Bukola Saraki.
1. For his education. he attended King's college, Lagos from 1973 to 1978 and Cottenham college in the United Kingdom from 1979 to 1981 and then studied at the London Hospital Medical College of the University of London from 1982 to 1987, when he obtained his M.B.B.S.
2. He worked as a medical officer at Rush Green Hospital, Essex from 1988 to 1989.
3. He was a director of Societe Generale Bank ltd from 1990 to 2000.
4. He was appointed by President Olusegun Obasanjo as special assistant to the President budget in 2000.
5. Saraki was the governor of Kwara state from 2003 to 2007.
6. Saraki is married to his lovely wife, Toyin Saraki and they are blessed with four children.
7. He was made the Turaki of the Fula emirate of Ilorin.
READ ALSO: Babatunde Fashola Biography: Age, Family & Net Worth
8. He also serves as GLOBE Nigeria's President.
9. Saraki has won numerous awards which include: Institute of Chartered Accountants Award of Excellence 2010, Nigerian Bar Association Award for Excellence, Outstanding leadership award and so on.
10. Dr Bukola Saraki is one of the most influential politician in Nigeria with an estimated net worth of $12 million according to Forbes list for 2018.
You can contact Bukola Saraki on:
Twitter @bukolasaraki
Facebook: Abubakar Bukola Saraki