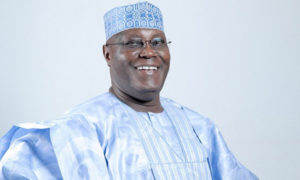 Intelligent and highly focused Atiku Abubakar is a popular Nigerian politician and businessman born on November 25, 1946.
Atiku served as the vice president of Nigeria under the regime of President Olusegun Obasanjo from 1999 to 2007, having beeing preceded by Mike Akhigbe and later succeeded by Goodluck Jonathan.
He is not only a active politician, he also have high engagement on social media having large number of followers on different online platforms most especially on twitter and facebook.
In August 2013, Abubakar became the second Nigerian politician to be verified on twitter after the Lagos state Governor, Babatunde Fashola. Apart from being active online, he also launched a blog in 2013 where he shared his views on the role and relevance of social media to governance and democracy in Lagos.
Aside politics, he also has a lot of business venture and business ideas which makes him stands out from other politicians.
Lets get to know more about the aspiring president of Nigeria, Atiku Abubakar from his profile to his educational background, career, personal life, family, contact and net worth.
Early Life & Background
Atiku Abubakar was born to a Fulani trader and farmer Garba Abubakar and his second wife, Aisha Kande, in Jada village of Adamawa State.
He became the only child of his parents after his sister died at infancy.
His parents divorced just before his father died in 1957. Although his mother remarried but later died in 1984 of a heart attack.
Atiku started school late due to his father's opposition of western education. He was later admitted to Jada primary school at the age of eight. He attended Adamawa Provincial secondary school. He went to Ahmadu Bello University where he studied Law and graduated in 1969 after which he was employed by Nigerian Customs Service.
Career: Politics & Business
Abubakar started out in the real estate business during his days as a Customs Officer. He built his first house in Yola from the 31,000 naira loan he received in 1974. The house was put up for rent from which he used the proceeds to buy another land and bulit his second house. All this had continued while building a sizeable portfolio of property in Yola.
He eventually ventured into agriculture while acquiring 2,500 hectares of land to start a maize and cotton farm in 1984. Although, things didn't go well as planned so it was closed down in 1986 and then he ventured into trading, buying and selling truckloads of rice, flour and sugar.
Just after working in the Nigeria Customs Service for twenty years, he retired in April 1989 and began full time in business and politics.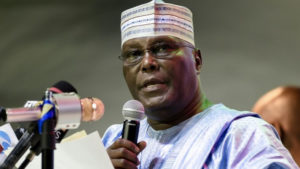 We could just continue to talk about his business moves and ideas from the tim he was invited by an Italian businessman in Nigeria, Gabriell Volpi, to set up Nigerian Container Services (NICOTES), a logistics company operating within ports to a business empire of having a beverage manufacturing plant in Yola and animal feed factory, not to mention his position as the co-founder of Intels, an oil services company with numerous operations in Nigeria and abroad and founder of American University of Nigeria (AUN), first American-style university to be established in Sub-Saharan Africa in 2005.
Abubakar ran for the office of governor in the Gongola state (now Adamawa and Taraba states) in 1991, and for the presidency in 1993, placing third after MKO Abiola and Babagana Kingibe in the Social Democratic Party (SDP) primaries.
He was elected governor of Adamawa state in 1998 and while still elected governor, he was selected as the presidential candidate of the People's Democratic Party (PDP) as Olusegun Obasanjo's running mate. They won the elections in February 1999 and Abubakar took over as the second democratically elected vice-president of Nigerian on May 29, 1999.
Abubakar was involved in a number of controversies with Olusegun Obasanjo during his second term as Vice president. His attempt to succeed Obasanjo was not supported by the latter, and a trial at the Supreme court was required to allow Abubakar run for the presidency as he was initially disqualified by the independent National Commission on the grounds that he had been charged with financial misconduct by an investigative panel created at Obasanjo's request. The Supreme court ordered the electoral commission to reinstate his name on the presidential list. He ran on the platform of Action Congress, having resigned from PDP because of his problems with Obasanjo. Atiku lost the elction, ranking third after Umar Yar'Adua and Muhammadu Buhari of the All Nigeria Peoples Party (ANPP).
Atiku announced his return to the Peoples Democratic Party (PDP) via a Facebook Live on December 3, 2017. According to him, he decided to return home to the PDP since the issues which made him leave the party had been resolved. He declared his intention for the presidential nomination of the PDP mid 2018 and won the nomination at its convention on October 7.. He defeated 11 other contestants including the governor of Sokoto state Aminu Tanbuwal who became the runner-up.
Personal Life, Marriage & Family
Atiku Abubakar is a man with four wives and 28 children.
Abubakar got married to his first wife, Titilayo Robert in December 1971 and she has four children; Fatima, Adamu, Halima and Aminu.
He married his second wife, Ladi Yakubu in 1979 and she gave birth to six children; Abba, Atiku, Zainab, Ummi-Hauwa, Maryam and Rukaiyatu.
He married his third wife, Princess Rukaiyatu (daughter of the late Lamido of Adamawa, Aliyu Musdafa) in 1883. She gave birth to seven children; Aisha, Hadiza, Aliyu, Asmau, Mustafa, Laila and Abdulsalam.
He followed up with a fourth wife, Fatima Shettima which he married in 1986. She gave birth to her first child Amina, Mohammed and two sets of twins Ahmed and Shehu, Zainab and Aisha then her last daughter Hafsat.
He later divorced Ladi, which allowed him to marry as his fourth wife (maximum permitted by Islam), Jennifer.
Honours And Awards
In 1982, Abubakar was awarded the chieftancy of the Turaki of Adamawa by Adamawa's traditional ruler, Alhaji Aliyu Mustapha.
In 2011, he was honoured with the Harris Wofford Global Citizen Award.
In 2017, Abubakar was awarded the chieftancy title of the Waziri of Adamawa as his previous title of Turaki was transferred to his son Aliyu.
READ ALSO: Muhammadu Buhari Biography: Age, Family, Pictures & Net Worth
Net Worth
Atiku Abubakar is not just a man with political mindsets, he is also an individual with vast business ideas. He has a lot of investments from venturing in agriculture to having a beverage manufacturing plant in Yola, co-founder of an oil services company and the founder of American University of Nigeria (AUN).
He is one of the most influential Nigerian politician and businessman with an estimated net worth of $1 billion dollars.
You can contact on Social Media:
Instagram @aatiku
Twitter @atiku
Facebook – Atiku Abubakar