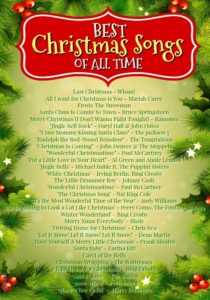 As Christmas is fast approaching with everyone preparing for a wonderful time, we bring you some of your favorite Christmas songs for your playlist from forties clasics to more recent pop hits.
1. Happy Xmas (War is Over) – John Lennon and Yoko Ono
2. Mary' Boy Child/Oh My Lord – Boney M
This is Boney M's smah hit christmas carol song with the infusuio of Euro disco, steel drums and reggae.
3. 2,000 miles – The Pretenders
4. "Rockin' Around the Christmas Tree" – Brenda Lee
5. "Let it Snow!Let it Snow!Let it Snow!" – Dean Martin
6. Walking in the Air – The Snowman/Peter Auty
7. Peace on Earth/Little Drummer Boy – Davido Bowie, Bing Crosby.
8. Santa Baby – Eartha Kitt
9. The Christmas Song – Nat King Cole
READ ALSO: 8 Evergreen Christmas Song You Should Know
10. I Believe in Father Christmas – Greg Lake
11. It's the Most Wonderful Time of the Year – Andy Williams
12. Stop the Cavalry – Jona Lewie
13. Driving Ho,e For Christmas – Chris Rea
14. Have Yourself a Merry Little Chrsitmas – Frank Sinatra
15. All I Want for Chrsitmas Is You – Mariah Carey
16. Last Christmas – Wham!
17. Fairytale of New York – The Pogues
18. Winter Wonderland – Bing Crosby