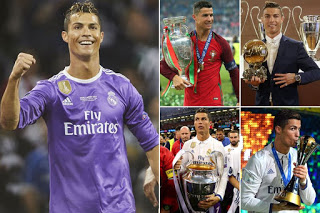 No one would believe Cristiano Ronaldo could have achieved that big within the last 365 days in football history.

Cristiano Ronaldo is indeed having an amazing year and great football moments after Real Madrid beat Juventus 4-1 in the champions league final, being the first team to evr retain the Champions league win back to back.
Just between the two Champions league he has won, Cristiano Ronaldo has also won several awards. In the space of 365 days, the former Manchester United man has won 10 major awards.
For a world class football star like Cristiano Ronaldo, winning trophies and medals is fast becoming a mere routine for the the Portuguese international.
Below are the major awards he has won:
1. He won a champions league on the 28th May 2016.
2. He won a Euripean championship on 10th July 2016.
3. He won UEFA BEST PLAYER in Europe on 28th August 2016.
4. He was awarded a Ballon d'or on December 2016.
5. Fifa Club World Cup: 18th December 2016.
6. FIFA Club World Cup Golden ball: 18th December 2016.
7. FIFA The 'Best' Men Player: January 7, 2017.
8. Portugal Player Of The Year: 20th March 2017.
9. La Liga: 21 May 2017.
10. He won a champions league again on June 3, 2017.