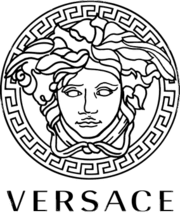 Here's a short history and wiki of the popular brand Versace.

Versace is an Italian luxury fashion brand which deals with Italian made ready-to-wear and leather accessories.
Versace a;lso have other collection such as Versus Versace and Versace Jeans.
The brand is also known fo its falshy and bright colors.
Below are the 10 other interesting things about Versace.
1. The founder (owner) of Versace is Gianni Versace
2. Versace was founded in 1978.
3. The brand has its headquarters at Milan, Italy.
4. Versace logo si the head of Medusa, a Greek mythological figure.
5. Thebrand was often referred to as the "Rock n' Roll designer" because they designed for many popular clients including Michael Jackson and Elton John.
6. Versace also designed clothing for the Princess of Wales and Princess Caroline of Morocco.
7. After the death of Gianni Versace in 1997, his sister, Donatella Versace took over as creative director and hism older brother Santo Versace became CEO.
8. Donatella's daughter, Allegra Versace assumed control of 50 percent stake of the company on her eighteenth birthday.
9. The 'green versace dress" worn by Jennifer Lopez at the 42nd Annual Grammy Award was voted as the 'Fifth most iconic dress of all time" in 2008.
10. The company had it revenue to be E669 million as at 2016.