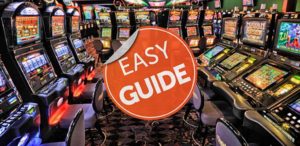 While slot machines are the most popular games in America, Australia, and online casinos, only a few players fully understand how they work.
Even worse, you'll find a lot of poor slot machine advice and tips on the internet, making it hard to be a consistent winner while playing slots. This detailed slot machine guide will give you everything from the house edge in slots and basic money management advice to the best strategy tips for slot players.
The House Edge in Slots
Though its presence is hardly felt, the house edge is among the most critical factors in the casino market. This house edge is the statistical advantage that the casino has over the players, making it the primary way in which the casino creates its revenue. However, the players can't easily calculate the house edge of a certain slot machine, making it a bit trickier to know the right bankroll management system and game strategy to use.
Besides the house edge, players need to consider the volatility of the slots they choose. Unlike the house edge, volatility has a highly noticeable effect on your bankroll and the general game-play. It refers to the inherent risk in a game and how often the player can expect a payout. As such, high volatility slots offer less frequent wins and large rewards, while low volatility games take a slow and steady approach with small regular wins.
Bankroll Management Tips
Whether you're a beginner or a pro at the Betway casino, you'll need a solid strategy on how to manage your cash. Here are some useful tips:
Have a win and loss limit
While you don't have to work out a budget or set the size of each bet, you can save a lot of time by creating a limit for losses and wins. That means you'll quit playing as soon as you hit one of your limits. If you find it hard to walk away from casino games, consider recruiting a friend to help you stick by the limits or time yourself after every 45 minutes to remind yourself of the limit.
Slot Machines Strategy Tips
While no strategy can guarantee that you won't lose money, you can use these tips to avoid losing everything in your bankroll and hold more of your cash.
· Avoid progressive slots
These slots attract bettors by promising life-changing payouts to the tune of millions of dollars. However, these slots are quite unfriendly to your bankroll since you stand a very slim chance of winning any amount.
· Play the simplest games
If you're a recreational bettor looking for the best entertainment in slots, you'll need a big bankroll. However, those looking for the best odds possible will have a fantastic time with the most straightforward games as they also offer the best odds.
· Always bet max
Though slots allow the players to decide the amount they want to bet per spin, it's a smart move to place the maximum wager on each spin you place on Betway. However, you must choose a slot machine that's affordable for you to play at the maximum bet for your entire session.
This Is A Featured Post.