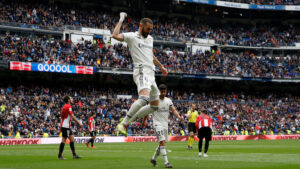 After the resumption of the championship of Spain, many fans noticed not the best form of almost all teams.
However, the livescore football results of both favorites and outsiders appealed to the fans, because there is still a place for intrigue in all parts of the standings.
Of course, the battle for gold medals is of the most interest to many viewers, because this season the eternal confrontation between Barcelona and Real Madrid is being repeated again. Seville is not much behind but is unlikely to be able to compete against stronger clubs.
Naturally, there are plenty of matches ahead, so fans should pay attention to the chances of the following teams to enter the fight for the champion trophy:
Barcelona – 45%. The Catalans lost the last El Clasico, which almost stopped their way to the champion title. However, in the next round Real lost to Betis, and the intrigue returned. Barcelona has better chances because of a good selection of players. Luis Suarez has recovered, soon Usman Dembele will come back too, while Messi is in his best form.
Real Madrid – 40%. The first match after the resumption of the championship left an ambiguous impression, because there were two different Real Madrid on the field. In the first half fans saw Galactikos, while in the second one it was relaxed athletes, who were completely satisfied with the result. This is what angered Zinedine Zidane so much, as he expressed his dissatisfaction with such a completely non-champion game.
Sevilla – 15%. This figure is only conditional, because everyone understands that the Nervionians will do their best to stay at the third place, not missing the opportunity to enter the Champions League the next year.
It's irrational to consider Real Sociedad, Getafe or Atlético, but fans should watch the livescore football results of the Spanish championship, because there will be a lot of interesting things in it. The struggle for the seventh place will be very serious, because it allows clubs to join the qualification stage of the Europa League.
Who will become the best scorer of La Liga according to Azscore?
The injury of Lionel Messi of Barcelona at the beginning of the championship gave many attackers a chance to prove themselves in the best way. All the achievements of the players during the championship can be studied on azscore.com. The site provides enough useful information and statistics necessary for most fans.
For a long time, Karim Benzema (Real Madrid) played perfectly and scored all the time. However, Messi soon overtook the Frenchman in the scorers race and should not miss the leading position now. Their exciting struggle can be watched on Azscore. The site allows fans not to miss a single match and important statistics.