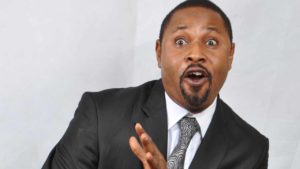 No doubt, the Nigerian actor Saidi Balogun has made a positive impact in the industry with lots of honours to his name.
Here we shall be highlighting everything you need to know about the handsome actor from his full biography to his personal life, age, movies, marriage and more. So sit back and enjoy.
Early Life & Background
Saidi Balogun is a Nigerian actor, movie producer and director born on February 5, 1967 in Kwara state.
Although, he was born in the north central of Nigeria, he originally hails from Oyo state where he attended both his primary and secondary education before proceeding to Kwara state university.
Career
Saidi Balogun started acting in 1975 with his first television program titled "Youth today" on NTA. He also produced his first movie titled "City Girl" in 1989.
He has starred in numerous movies inclduing Modupe Temi, Ofin Mose and so on.
Personal Life
Saidi Balogun was married to fellow actress Fathia Balogun before they officially divorced in 2014. They had two children, a son – Khalid and a daughter – Haliyah.
Many still do not know that Fathia Balogun is Saidi Balogun's second wife. He had a first wife named Sherifat Balogun who is also has two kids, Zinnat and Jamal.
It was a hell of experience for the mother of two, Sherifat, when she was abandoned by the actor but she eventually moved on after some time.
Just after Saidi Balogun got separated from Fathia Balogun, he eventually moved on with a new wife, Funke Sofowora, a chartered accountant and cousin to Lagos monarch, Oba Saheed Elegusi of Ikateland.
Fathia Balogun who fell in love with acting has also starred in numerous movies like Omo Ase, Igbogbo, Omwunmi, Omo Iyajo, Asa, Afisuru and so on.
She's one of the mst influential yoruba actress with houses, cars and a net worth of N200 million. Read more on Fathia Balogun Biography
Saidi Balogun Movies
Gbogbo Ere
Modupe Temi
Third Party
Ofin Mose
Family on fire
Social Media Profile
Instagram @saidibalogun
Facebook Saidi Balogun