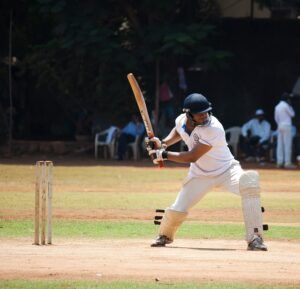 In the dazzling realm of cricket, where legends are forged and stories of resilience echo through stadiums, Rohit Sharma has emerged not just as a player but as a maestro, crafting his saga of success with unwavering determination and exceptional talent.
Born on April 30, 1987, in Banaras, India, Rohit's journey to becoming the Vice-Captain of the Indian cricket team has been nothing short of spectacular. His rise in the cricketing echelons speaks volumes not only about his skill with the bat but also about his unyielding spirit that has carried him through highs and lows, making him the new king of the cricketing kingdom.
A Promising Start: The Early Days and Domestic Triumphs
Rohit Sharma's tryst with cricket started early, revealing a natural flair for the sport that soon caught the attention of selectors and enthusiasts alike. His early performances in domestic cricket for Mumbai paved the way for his entry into the international arena.
Rohit's elegant stroke play and ability to tackle the fiercest of bowling attacks turned heads, earning him the nickname "Hitman." His talent was undeniable, and it wasn't long before he became a regular in the Indian team. His consistency in the limited-overs format, especially in One Day Internationals (ODIs), transformed him into one of India's most dependable batsmen.
Owning the Limited-Overs Arena: Rohit's Mastery in ODIs and T20Is
Rohit Sharma's dominance in the limited-overs format has been awe-inspiring, setting records that glitter in the annals of cricketing history. His ability to anchor the innings and accelerate when needed, coupled with an eye for gaps in the field, makes him a nightmare for bowlers.
In ODIs, he holds the record for the highest individual score, a breathtaking 264 runs against Sri Lanka in 2014. His knack for converting starts into substantial centuries and his remarkable consistency have played pivotal roles in India's triumphs in major tournaments, including the ICC Champions Trophy and multiple Asia Cups.
Rohit's flair extends to the T20 format, where he has led India to numerous victories, showcasing his captaincy mettle and batting prowess.
Test Cricket: A Testament to Adaptability and Skill
While Rohit Sharma found immense success in limited-overs cricket, he faced challenges in the Test format early in his career. Critics questioned his ability to perform consistently in the longest format of the game. However, Rohit's determination and hunger for success led to a remarkable transformation when he was promoted to open the innings in Test matches.
This strategic move by the team management turned out to be a game-changer. Rohit embraced the challenge with gusto, silencing his critics with stellar performances. His adaptability, focus, and solid technique were on full display as he notched up centuries and double centuries, making him a linchpin in India's Test batting lineup.
Leading from the Front: Captaincy and Mentorship
Apart from his extraordinary batting prowess, Rohit Sharma has showcased his leadership qualities in various capacities. He has successfully captained the Mumbai Indians in the Indian Premier League (IPL), guiding the team to multiple IPL titles. His calm demeanour and strategic acumen have earned him respect not only as a player but also as a captain.
In 2017, he stepped into the shoes of the Indian cricket team's captaincy in limited-overs cricket during Virat Kohli's absence, showcasing his ability to handle the pressures of leadership at the international level and increasing the team's cricket betting odds significantly. Moreover, his role as a mentor to young talents has been invaluable, shaping the future of Indian cricket.
The Glittering Legacy: Rohit Sharma's Impact on Indian Cricket
In the annals of Indian cricket, certain players leave an indelible mark, shaping the game's future with their extraordinary skills and leadership.
Rohit Sharma stands tall among these luminaries, his journey in cricket adorned with numerous milestones and moments of sheer brilliance that have redefined the sport.
A Captain Leading from the Front: Rohit's Remarkable Captaincy Stints
Rohit Sharma's captaincy has been nothing short of exemplary, showcasing his ability to lead from the front and inspire his team to glorious victories. Under his captaincy, the Mumbai Indians in the Indian Premier League (IPL) transformed into a powerhouse, clinching multiple titles. His strategic brilliance, calm demeanour under pressure, and knack for nurturing emerging talents have made him one of the most successful captains in IPL history.
Moreover, his stint as the captain of the Indian limited-overs teams in the absence of regular captain Virat Kohli showcased his adept leadership skills, guiding the team to memorable wins and reinforcing his position as a formidable leader on the international stage.
Rohit Sharma: The Mentor and Role Model
Beyond his exploits on the field, Rohit Sharma has assumed the role of a mentor, guiding young talents and shaping their cricketing journeys. His wisdom, experience, and approachable nature have made him a sought-after mentor, not just within the Indian team but also in domestic and franchise cricket.
His dedication to nurturing the next generation of cricketers has been pivotal in grooming future stars, instilling in them the values of hard work, discipline, and passion for the game. As a role model, he continues to inspire budding cricketers, instigating a cricketing revolution that extends far beyond the boundaries of the pitch.
Rohit Sharma: A Vision for the Future
As Rohit Sharma continues to etch his name in cricketing history, his journey remains an inspiration for aspiring cricketers and fans worldwide. His elegance on the field, combined with a fierce determination, encapsulates the essence of modern-day cricket.
With numerous records, match-winning performances, and a charismatic leadership style, Rohit Sharma has indeed earned his place as the new king of cricket. As he dons the Indian jersey and steps onto the field, cricket enthusiasts eagerly anticipate more magical innings, for in Rohit's hands, every match is a canvas, and every stroke is a masterpiece.
To conclude; Rohit Sharma is one of the most important figures in cricket. Not just for this generation, but forever. The impact he has had on the sport is immense, and his name is going to live on in cricket indefinitely. See you next time!