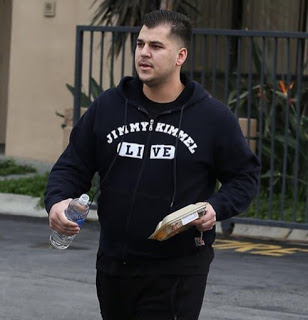 Here's the official biography and latest news about Rob Kardashian.

Rob Kardashian Facts
Real Name: Robert Arthur Kardashian
Date of Birth: March 17, 1987
Place of Birth: Los Angeles, California, U.S
Occupation: Television personality, socialite, businessman
Height: 1.85
Net Worth: $10 million
Robert Arthur Kardashian who is popularly known as Rob Kardashian is a television personality and businessman born on March 17, 1987.
He has three siblings (elder sister), Kourtney, Kim and Khloe.
He also have step brothers Burton, Bradon, Brody, step siter – Casey and half sisters, Kendall jenner and Kylie Jenner which he gained after his parents divorced in 1991 and her mother married again that same year to Bruce Jenner. His father, Robert Kardashian later died in 2003 as a result of esophageal cancer.
Rob graduated from the University of Southern California's Marshall School of Business in 2009.
Rob and his siblings derive most of their revenue by endorsing products such as Coca-Cola for which they are paid (as of 2016) between 75,000 and $300,000 per post on instagram, facebook and twitter.
He was a contestant on season 13 of Dancing with the stars in 2011 as he was paired with two time champion Cheryl Burke and mad it further than his sister, Kim, did during her appearance in the seventh season.
READ ALSO: Kim Kardashian Biography: Age & Net Worth
He had also venture into other business including working with Perfect skin, Rival Spot, The BG5 and many others.
He had also participated in Fox's dating game show The Choice in 2012.
On his personal life, Rob Kardashian dated actress Adrienne Bailon from 2007 to 2009. In October 2012, he confirmed dating singer Rita Ora on twitter.
In January 2016, Rob Kardashian started dating Blac Chyna of which they announced their engagement via instagram just after three months of dating. Both had a daughter, Dream Renee on November 10, 2016 and on December 2016, the couple parted ways of which Kardashian accused Chyna of infidelity and psoting explicit pictures of her.
You can reach Rob Kardashain on instagram @robkardeshian