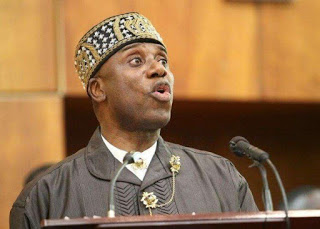 Here's the latest news about the Nigerian politician, Rotimi Amaechi from his biography to his family life.

Born Chibuike Rotimi Amaechi on May 27, 1965, is a Nigerian politician who served as the fifth Governor of Rivers state from 2007 to 2015.
Rotimi who was succeeded by Ezenwo Nyesom Wike, is now currently serving as the federal minister of transportation.
Here are the 10 things you don't know about him.
1. He was born in Ubima, Ikwerre local government area of Rivers state to the family of late Elder Fidelis Amaechi and mrs Mary Amaechi.
2. His first and last names literally means "God is strenght" and "Who knows tomorrow".
3. He was raised in Diobu, an area in Porthacourt.
4. He attended St Theresa primary school and Government secondary school Okolobiri for his primary and secondary education respectively.
5. He obtained a Bachelor of Arts degree in English studies and Literature from the University of Porthacourt.
6. He came into politics as the secreatry of the now defunct National Republican Convention in Ikwerre between 1992 and 1994, he was a special assistant to Deputy Governor of Rivers state and also served as the speaker of Rivers state house of Assembly from 1999 to 2007.
7. He served as the fifth governor of Rivers state from 2007 to 2015.
8. He formerly belonged to the opposition party PDP before joining the APC in 2013.
9. He is married to his lovely wife, Judith Amaechi and their union is blessed three sons.
10.During his political career, he was accused of lots of terrible dees. some might even say that Rotimi Amaechi net worth is about $757 million but for now there is no eveidence to back it all.