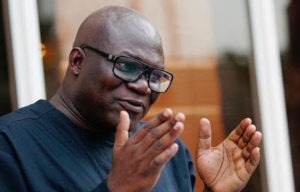 Reuben Adeleye Abati simply known as Reuben Abati is an award winning Journalist and Politician born on November 7, 1965 in Abeokuta, Ogun state, Nigeria.
He was a special adviser on Media and Publicity to president Goddluck Jonathan.
Reuben was also a newspaper columnist and the chairman of the editorial board of the Nigeria newspaper The Guardian from 2001 to 2011. His column also appeara regularly on the Nigerian website, Nigerian village square.
EDUCATION
Reuben Abati is a first class graduate of Theatre Arts from the University of Calabar, Nigeria, where he won the vice chancellor's prize for the best overall graduating student.
He also has a Ph.D in Theatre Arts from the University of Ibadan and obtained a Bachelor's degree in Law from the Lagos state University. Reuben has a professional training certificate in Journalism from the college of Journalism, University of Maryland, College Park, United states and a certificate in Management and leadership from the Said Business school, University of Oxford.
READ ALSO: Boss Mustapha Biography, Profile And Political Career
CAREER
Reuben Abati started his career as a university lecturer, teaching courses in Dramaturgy, Theory and Criticism and the Sociology of Literature at the Olabisi Onabanjo University, Ogun state. He is also a member of the Nigerian Institute of Management, The Nigerian Union of Journalist and The Nigerian Guild of Editors.
In 2011, Reuben was appointed special adviser, Media and Publicity as an official spokesperson to president Goodluck Jonathan where he was responsible for managing the presidents media office, media relations and leadingthe presidency's public communication team.
Reuben Abati returned back to Journalism after his stint in government. He began writing his regular two columns in the Guardian newspaper and later moved to ThisDay newspaper where he now writes a Tuesday column titled "TuesdayWithReubenAbati". He has a website: reubenabati.com.ng and post on his instagram and twitter account as @abati1990.
Personal Life, Marriage
Reuben Abati was married to his first wife, Iyabo who's also the mother of his first four children before they parted ways. Reuben later remarried a new wife, Omolara in a traditional wedding ceremony held at Ibadan on May 28, 2016. Their union is blessed with two children.